SCO FrichesAgricoles
In Occitania, the development of agricultural wastelands is a major concern for elected officials who wish to act for food sovereignty, in a context where the risk of fire and health problems continue to increase. This project aims to map agricultural wastelands and to support the requalification of these areas while respecting their multifunctionality.

OVERVIEW
Territorial planning actors are faced with various challenges, including adaptation to climate change, improving food sovereignty, maintaining biodiversity and a healthy and safe living environment.
In Occitania, the development of agricultural wasteland is a major concern in a context where the risk of fire and health problems continue to increase. These risks strongly involve wasteland, which is the source of fire outbreaks and also a reservoir of diseases (e.g. flavescence dorée, vine disease) and parasites (e.g. Xylella fastidosia, a bacterial killer of olive trees). This is why knowledge of wastelands - their location and state of progress - is necessary to prevent and improve the effectiveness of emergency services (SDIS) and the protection of inhabited areas, to monitor and fight against the development of harmful organisms.
The reclamation of wasteland is also a lever to act in favour of territorial revitalisation and food sovereignty, the requalification of spaces to maintain biodiversity, and carbon sequestration via adapted cultivation practices allowing the preservation of living soil.
However, the detection of agricultural wasteland is a complex issue, for which several inventory strategies have been successively carried out by a limited number of DDTs (departmental directorate for the territories) and by the Safer (land development and rural establishment company, Société d'aménagement foncier et d'établissement rural), with disparate results.
The SCO FrichesAgricoles (agricultural wastelands) project aims to improve knowledge and support the strategic development of local policies in order to support requalification projects while respecting the multifunctionality of the areas.
Methodology
To meet this ambition, three application bricks are implemented:
The collaborative mobile application Vigifriche, developed in 2020 by Safer, makes it possible to geolocate and qualify agricultural wasteland on the ground;
The WaSaBi (Wasteland Satellite Bulk identification) prototype algorithm aims to predict potential agricultural wastelands based on Sentinel-2 satellite observation and various information from open source GIS databases. Based on machine learning techniques, WaSaBi is trained using ground truths from Vigifriche;
A consultation and decision support application allows users to visualise agricultural wasteland and to cross-reference it with other information from planning documents, environmental and agricultural zoning, natural risks, green and blue lines, etc. By providing users with information on ecosystem services and the preferred uses of fallow agricultural land, the application will facilitate the implementation of concerted approaches to the redevelopment of fallow land for various purposes: food transition, fire and natural hazard control, biodiversity preservation, environmental compensation measures and adaptation to climate change.
The project aims firstly to consolidate the methodological work on WaSaBi to make it a reliable and validated inventory and monitoring tool for Occitania (France). In particular, the contribution of other satellite imagery sources will be analysed: Sentinel-1 radar imagery and very high spatial resolution imagery to capture additional information such as textures.
The project will then implement the tools in a pre-operational context at the Occitania level via an iterative learning loop using collaborative input:
Identify potential wastelands with WaSaBi at the scale of Occitania;

Integrate the results into Vigifriche;

Carry out field verification campaigns in different territories of Occitania;

Integrate updated ground truths as a new learning source for WaSaBi;

Repeat loops as many times as necessary.
Finally, in order to allow access to "wasteland" data as well as their valorisation, the consultation and decision support application will be developed and implemented.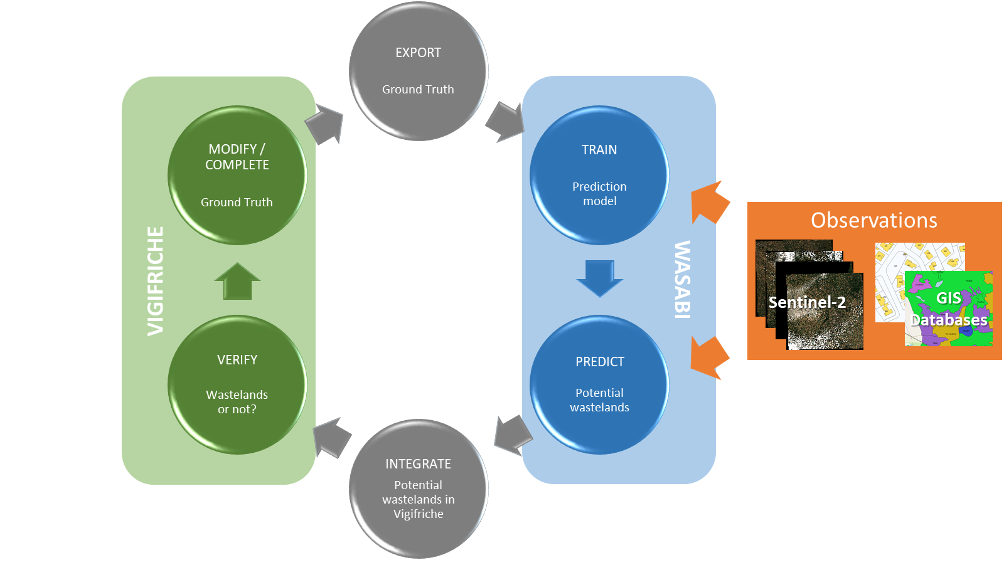 At the end of the project, an inventory of agricultural wastelands in Occitania will be produced. It will aim to meet the regulatory obligation arising from the Law on the Future of Agriculture, Food and Forestry (LAAAF) of 13 October 2014 (Article L.112-1-1 of the Rural and Maritime Fishing Code), which stipulates that the Departmental Commissions for the Preservation of Natural, Agricultural and Forestry Spaces must carry out these inventories and update them every 5 years.
In order to promote a larger scale and recurrent use, the project will study the modalities to extend the method to other regions in France as well as the technological transfer of WaSaBi to an industrial actor.
TERRITORY FOR EXPERIMENTATION
 The Occitania region (France) with in particular:
Commune of L'Honor de Cos - Tarn et Garonne

Commune of  Nyls Ponteilla - Pyrénées Orientales

Commune of Figeac - Lot

Commune of Moissac - Tarn et Garonne
Other trial areas will be specified when the project is launched.
DATA
Satellite
Other
Field data from Vigifriche

Ecological data: Picto, SINP

Land register data DGFiP
RESULTS - FINAL PRODUCTS
The expected results are as follows:
Creation of a reliable inventory tool and monitoring of the evolution of wastelands on the scale of Occitania;
Creation of a database for observing wastelands: free consultation via a user portal enriched with maps of the challenges facing the territories;
Creation of an operational service to extract the surface area and evolution of wastelands in a territory;

Tools and methods used that can be transposed

to all regions of France and disseminated to the

Applisat

community;

The learning model and the algorithm are made available as free software.
Contact