Aléofeu presented to the French fire brigade
Published on 18/10/2023
Given the extent of forest fires as a result of climate change, satellite imagery is proving to be an excellent tool for fighting and preventing them, as demonstrated by the SCO Aléofeu project at the 129th National Fire Brigade Congress.
Held in Toulouse from 4 to 8 October 2023, the French National Fire Brigade Congress brings together nearly 500 exhibitors, 3,000 delegates and tens of thousands of visitors every year. While this gathering provides an opportunity for firefighters to share their passion for their profession, it is also a chance to discover new tools to help them in their missions.
To support our fire-fighters in the face of fires of sometimes gigantic proportions, the SCO is supporting the Aléofeu project, an operational forest fire risk demonstrator being developed in the Aude and the entire Prométhée area (Mediterranean axis). Thanks to dynamic mapping of the forest fire hazard obtained by cross-referencing (mainly) numerous remote sensing, field and meteorological data, the final tool will make it possible to better anticipate, direct and organize the fight against fires, better predict and estimate the risks, and thus better adapt the territory to protect the population.
▲ Raquel Rodriguez-Suquet (right), engineer at the CNES Lab'OT and representative of the SCO Aléofeu project, alongside Santiago Garcia Guillén, CNES engineer and representative of the CESARS telecommunications team. © CNES

The Aléofeu team was present on the stand of CNES, the pilot of the SCO in France and a stakeholder in the project, and was able to meet a number of potential users of its tool. In addition to the SDIS (French Departmental fire and rescue service), the European FireURISK project was particularly interested in comparing its products with those of Aléofeu, particularly in terms of risk mapping, risk reduction and risk prediction, taking into account the various IPCC scenarios.
At the "Satellite imagery: the tools available for forest fires and other natural disasters" session, Aléfoeu revealed more details, alongside the Copernicus programme, the International Charter Space and Major Disasters and the Kayrros Fast Track Forest Fire project.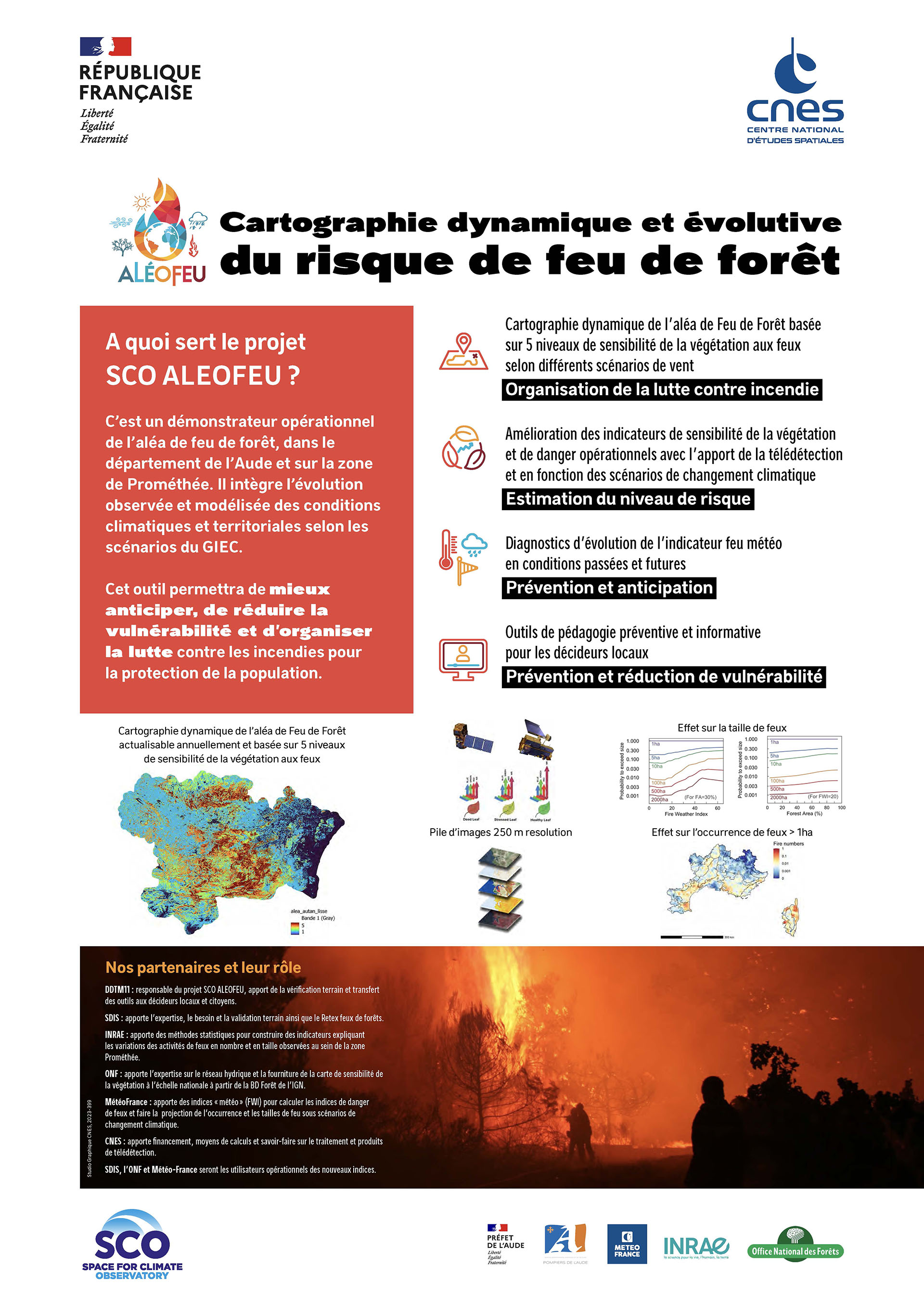 ▲ For the occasion, Aléofeu produced a poster giving an overview of the project (pdf version available to download in the Resources section of the project page).