Flood resilience: FORO is open access
Published on 22/11/2022
Developed within the framework of FLAude project to increase the resilience of territories to flooding, the FORO services demonstration platform is open to the public since October 28, 2022.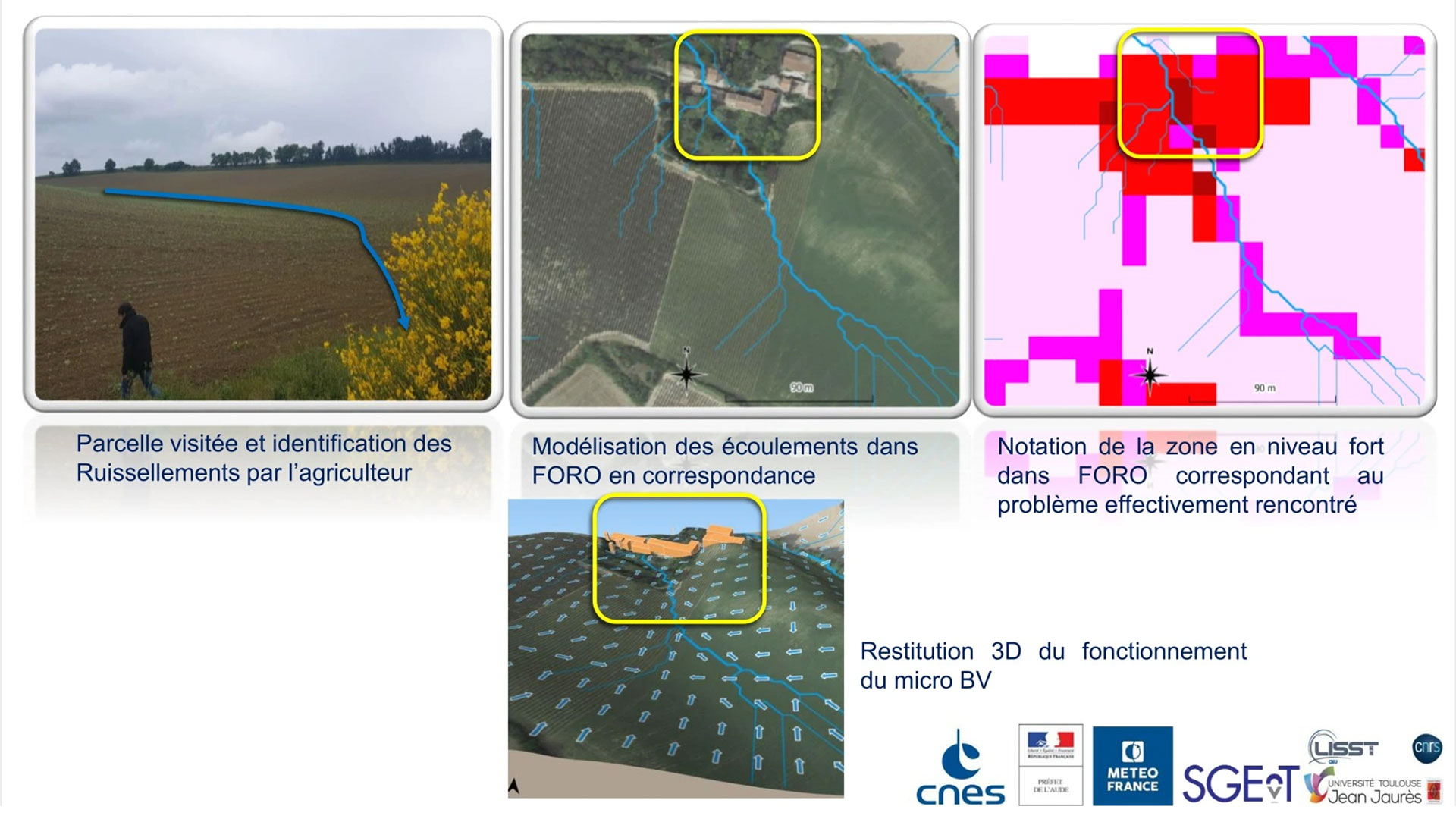 Example of FORO functionalities. From left to right : 1) Plot visited and runoff identified by the farmer, 2) Flow modelling in FORO in correspondence, 3) High level notation of the area in FORO corresponding to the problem actually encountered. Below: 3D restitution of the functioning of the micro BV. © FORO
Extreme events, especially hydrometeorological ones, are accelerating the pace, causing devastating and deadly floods all over the planet. In France, the Villegailhenc disaster that occurred in the Aude department in October 2018 is the origin of the FLAude project, whose multi-disciplinary team has developed the FORO tool, "Flood Observatory for Resilient Occitanie".
Based on satellite imagery, it allows rural actors to visualize and better understand the risks related to flooding by runoff, and to implement resilience plans.
Since October 28, 2022, FORO is open to the public in the Aude department. Educational and instructive, the site also allows to request the deployment of FORO on a territory.
Go to FORO : https://apps.tereval.fr/foro/#/
Co-funded by Copernicus and the French space agency CNES, with the support of SCO, Connect by CNES and the operational involvement of SGEvT, FLAude illustrates the effectiveness of public-private partnerships, with concrete and relevant results for the management of rural areas subject to intense rainfall.
Better decisions upstream and better evaluation downstream
FORO platform provides tools to help territories adapt to climate change for:
Understanding intense runoff: using a search engine and a documentary base to share knowledge and co-construct best practices.
Locating risks: with maps allowing to identify vulnerable sectors and to analyze action priorities, thanks to a combination of satellite images, past and future spatialized climate indicators, field data and modeling.
Acting: with implementation guides listing the most relevant incentives in different situations.
FORO will be deployed from 2023 in several territories of the Mediterranean Arc. In constant enrichment with the actors of the territory, FORO screens will very soon propose the detection of ice jams and damaged vines.
👉 Read more: read the official press release (11/16/2022,in French)