One-to-one with ONERA
Published on 23/02/2023
As a member of SCO France, ONERA is a key player in aerospace research and has developed a strong expertise in measurement physics, particularly applied to anthropogenic activity. Through the voice of Xavier Briottet, Head of the Optical Remote Sensing Mission, ONERA is reaching out to all public and private players who would need its knowledge.
As the French national aerospace research Office, space is already at the heart of ONERA. How and what are your objectives?
Xavier Briottet: ONERA, according to  its mission, conducts research activities together with the national and European ecosystem in the fields of Aeronautics, Space and Defense. In order to structure this range of activities, ONERA has defined a number of strategic axes that can be broken down into some thirty roadmaps, ten of which concern the space domain, and this according to two major aspects: efficient and safe access to space, and the sustainable and safe use of space. Our optical department represents 200 permanent and non-permanent staff.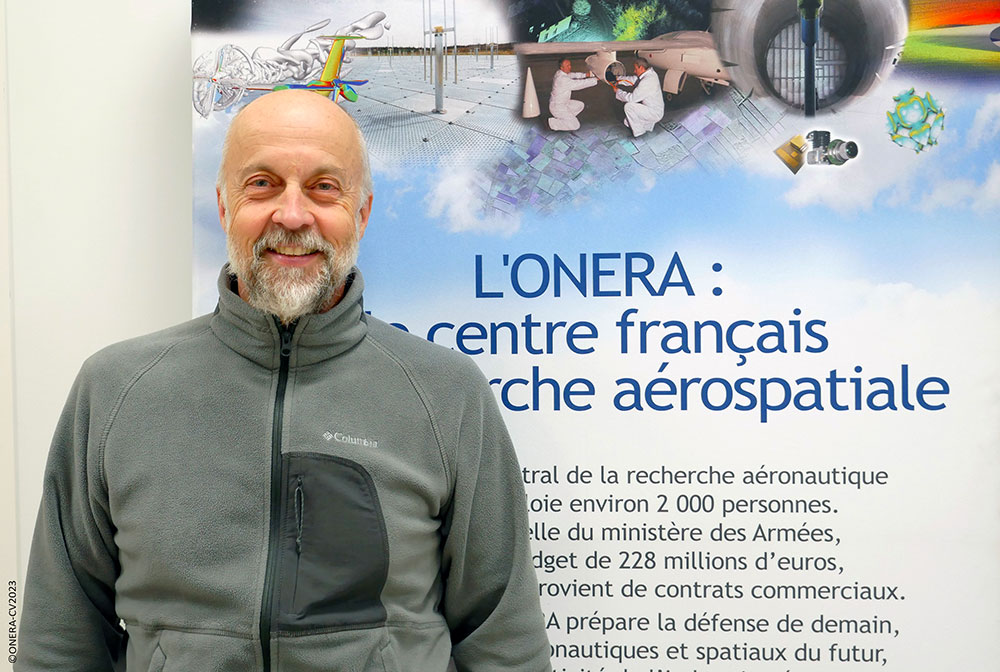 Xavier Briottet, Head of Passive and Active Optical Remote Sensing at ONERA. © ONERA
How is ONERA involved in climate change issues?
X.B.: ONERA is not a climate specialist, but we have been working on the issue of climate change for a long time. We are working with several partners, such as the Pierre Simon Laplace Institute, to improve our understanding of the impact of aviation on the climate, for example by studying condensation trails from aircraft engines and the impact of new types of fuel. Indirectly, ONERA is conducting numerous studies on reducing fuel consumption through new airframe and engine architectures. Typically, in our Optics department, we seek to understand a physical phenomenon through theoretical work and modeling to develop adequate instrumentation to observe the phenomenon and deduce important variables for the community.
In fact, ONERA is involved in new Earth observation missions, both to develop new optical sensors and to define and validate new products capable of characterizing anthropic activities at local scale. In this context, we mainly work on greenhouse gas measurements, characterization of anthropogenic gases and aerosols from industrial sites, which requires a high spatial resolution with a high spectral richness to characterize the plumes and their dispersion. We are also working on the determination of the biophysical and biochemical composition of vegetation to qualify soil pollution by hydrocarbons or heavy metals. In the same way, studying the state of forests health state (especially in the Mediterranean area) allows us to estimate their flammability potential and thus their vulnerability to fire.  Finally, ONERA is developing very specific skills in the urban environment, particularly in terms of soil classification using optical properties and heat islands using thermal infrared. All these works are validated on existing space data - Venus, Sentinel-2, Prisma, EnMap, Ecostress, Aster (Landsat), MODIS - or on airborne data, or from our own means, partly developed in our department.
"The SCO is a great place for us to better focus our research related to the impacts of climate change."
In fact, what do you expect from SCO France, of which ONERA is a member since its creation in 2019?
X.B.: As ONERA is a research and study organization, it is essential for us to be able to exchange ideas with the SCO community in order to gain a detailed understanding of many scientific issues arising from climate change and the research needs to understand the effects and try to mitigate the impacts. Furthermore, it is in our DNA to promote the transfer of knowledge to industry, similarly to the collaborative public/private approach of the SCO which is very well suited for it.
What can ONERA bring to the SCO building?
X.B.: ONERA has been involved for several decades in understanding the physics of measurement on a small scale in order to develop applications based on remote sensing. This is a rare skill, and we are particularly well known for the use of hyperspectral imaging in the reflective domain and in the thermal infrared. This knowledge allows us to develop very innovative applications to characterize anthropogenic activity such as industrial pollution, assessment of forest biodiversity degradation and the behavior of urban environments. This generates important collaborations with national research centers such as BRGM, Cerema, CNRS or INRAe, but also internationally. In this way, ONERA comes to support the teams in extracting characteristic parameters linked to climate change from remote sensing.
The recent availability of new hyperspectral space data (Prisma, EnMap...) or thermal infrared data, such as the Trishna mission, opens new perspectives that we want to develop with our partners.
You are involved in the Thermocity project, which has just been completed. Why this project, what was your role?
X.B.: The work carried out by ONERA as part of the Thermocity project is in line with two of our cross-disciplinary roadmaps: on-board sensors for Earth Observation and human activity, and AI-enhanced perception of the natural and operational environment. This project illustrates perfectly our contribution in terms of measurement physics. In collaboration with CNES, CNRS and CSTB, we used our knowledge to build surface temperature maps of several French cities. The urban environment being very complex, we have associated indicators to each pixel of the image in order to create a quality mask for the users of these data. In this context, we have developed disaggregation methods by coupling data in the reflective (Sentinel-2) and thermal infrared (Ecostress and Aster) domains to reconstruct surface temperature maps at a resolution of 20 meters, which is necessary to have a vision at the street scale (compared to 90 meters at the output of IR sensors). This work has allowed us to address urban heat islands, i.e. the difference in air temperature at a point in the city with the outside. The generated products are now available on the THEIA website.
For us, Thermocity is a step towards the eventual use of the data from the Trishna mission, for which we are the leader of the urban group, with the aim of improving our methods and the accuracy of the temperature maps. We also have projects with the University of Strasbourg and Cerema to develop future Trishna products that we hope can be used in SCO projects. We are also working -including in Toulouse with the company Magellium- to improve urban classification using artificial intelligence.
What future do you see for the SCO?
X.B.: I can already see the evolution between 2019 and today: when we discuss with laboratories, the SCO is one of the relevant windows to solicit, it is becoming a reflex because it enhances the work and promotes collaborations. I think that this public-private partnership is essential in order to be able to scale up spatial data more quickly and thus have a better understanding of the environment. The private sector should take better and better hold of the use of these data, which can only improve the understanding of our system on a larger scale and more quickly.
As for ONERA, I repeat that our knowledge can feed the work on urban vegetation and the phenological cycle, forest health state and their vulnerability to fire, pollution and rehabilitation of industrial or mining sites, etc. We invite project teams to reach us, especially from startups wishing to apply to Calls for Projects issued by Bpifrance under the investment plan France 2030!
----------
Under the supervision of the Ministry of the Armed Forces, ONERA's missions are to develop and direct research in the aerospace field, to design, carry out and implement the means necessary for the execution of this research, to ensure the national and international dissemination of the results and to promote their use by industry, including outside the aerospace field.