THERMOCITY Toulouse
The THERMOCITY project involves studying urban heat islands and heat losses through the development of a thermography analysis tool based on satellite imagery. Data and models are then compared in order to understand these phenomena and work towards the ultimate aim: adapting cities to climate change.
Adapting cities to heat waves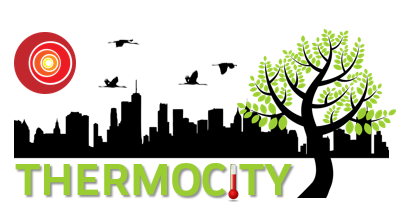 OVERVIEW
Satellite imagery is used to regularly measure the surface temperature of a city or urban area. This project uses two different types of thermal imagery for two purposes: summer thermography to identify heat islands; winter thermography to locate poorly insulated buildings and allocate an energy performance index to each district or city.
Thermographic data can be combined with other spatial data (vegetation mask, type of building, local climate zone, etc.) and non-spatial data (socio-economic data, energy consumption, etc.) to support the planning policy implemented across an urban area.
This project is also part of the preparatory programme for the TRISHNA mission, which is set to begin by 2025. This will provide thermal measurements at global level, with a high repetition rate and high spatial resolution.
The first phase of the project involves identifying and improving recent spatial thermal data in the regions of study. The project makes particular efforts to optimise emissivity/temperature separation based on the specific characteristics of the urban environment. This includes establishing levels of uncertainty for all the products generated.
One major problem in the thermal field is the poor spatial resolution of imagery. Advanced techniques are therefore applied to thermal imagery, which is combined with higher resolution imagery from the optical field in order to improve definition.
Another strand of the project involves modelling, particularly for urban heat islands, which are more difficult to understand than heat losses. A comparison is made between models and satellite-based measurements in order to understand the benefits and limits of the two approaches.
A statistical summary is established for both of the problems studied, for each urban area sub-set, in order to better understand the results generated and to support the definition of public policy. The granulometry applied to the presentation of results will be established on a case-by-case basis in cooperation with decision-makers.
Results will be published on an online portal that will be accessible to the public. Data can then be used by local players in order to better plan the city of the future.
TERRITORIES FOR EXPERIMENTATION
Toulouse

Paris

Marseille

Montpellier

Strasbourg
DATA
Satellite
Other
Open data:

land registry

, administrative division,

Open Street Map

, in-situ temperature

CSTB (Centre Scientifique et Technique du Bâtiment or French scientific and technical centre for the construction industry) materials database
RESULTS - FINAL PRODUCTS
An online portal showing the data processed and generated as part of the project for each of the municipalities or EPCI (établissement public de coopération intercommunale or public entity for cooperation between municipalities) concerned:
Thermography and related products (heat islands, hot spots, etc.)

Optical imagery

Land use

Digital surface model

Models: heat islands and energy loss

Development proposals

etc.
Related SCO Projects
Project News
Contact