Thermocity, a pioneer in satellite thermal data for cities
Published on 18/09/2023
Given that 55% of the world's population is currently considered to be urban and that this figure is set to rise even further, limiting urban temperatures is becoming an absolutely major challenge. While a number of SCO projects are looking at this urban issue, one in particular stands out for having laid the foundations for exploiting thermal spatial data: Thermocity.
Pointing to almost 33,000 heat-related deaths in France between 2014 and 2022, 28% of which occurred during heatwaves, even though heatwaves accounted for only 6% of the days studied, a Santé Publique France report published on 23 June 2023 highlights the need to step up prevention and adaptation to heatwaves. In the face of increasingly frequent and intense heatwaves, urban areas are particularly vulnerable because of the way they are organised, their materials and the human activities that create urban heat islands, or UHIs. Models to support the necessary adaptation of cities can now rely on thermal infrared spatial data.
Let's take a look at the SCO Thermocity project, which presented its results on Monday 13 June 2023 as part of a Theia Occitania Regional Animation event. You can also watch the replay of the webinar here (in French).
Spatial thermal IR data: what for?
"We're talking about a space mission that measures surface temperature using sensors that observe in the spectral range known as thermal infrared," explains Vincent Lonjou, engineer at the CNES Lab'OT and project leader. "The difficulty with this data is its low spatial resolution, so the challenge for Thermocity is to find the best ways of processing it so as to extract as much information as possible to help with urban policy," adds the remote sensing specialist, who is directly involved in the development of the project.
He goes on to point out that surface temperature, i.e. the temperature of soil and materials measured by satellites, is not the same as air temperature: both are useful. Thermal IR opens up two major fields of application, both of which are being explored by Thermocity:
Detecting thermal anomalies: which buildings lose energy in winter?
Characterize the thermal behaviour of cities in summer, particularly urban heat islands, and deduce the associated health risk.
To demonstrate this application potential, Thermocity set out to improve the thermal data, both by geographically 'realigning' it and by developing an algorithm capable of improving its resolution.
Thermocity products
To address the issue of adapting cities to climate change, Thermocity has produced a collection of thermal images of 5 French major cities (Toulouse, Paris, Marseille, Montpellier and Strasbourg) in different scenarios.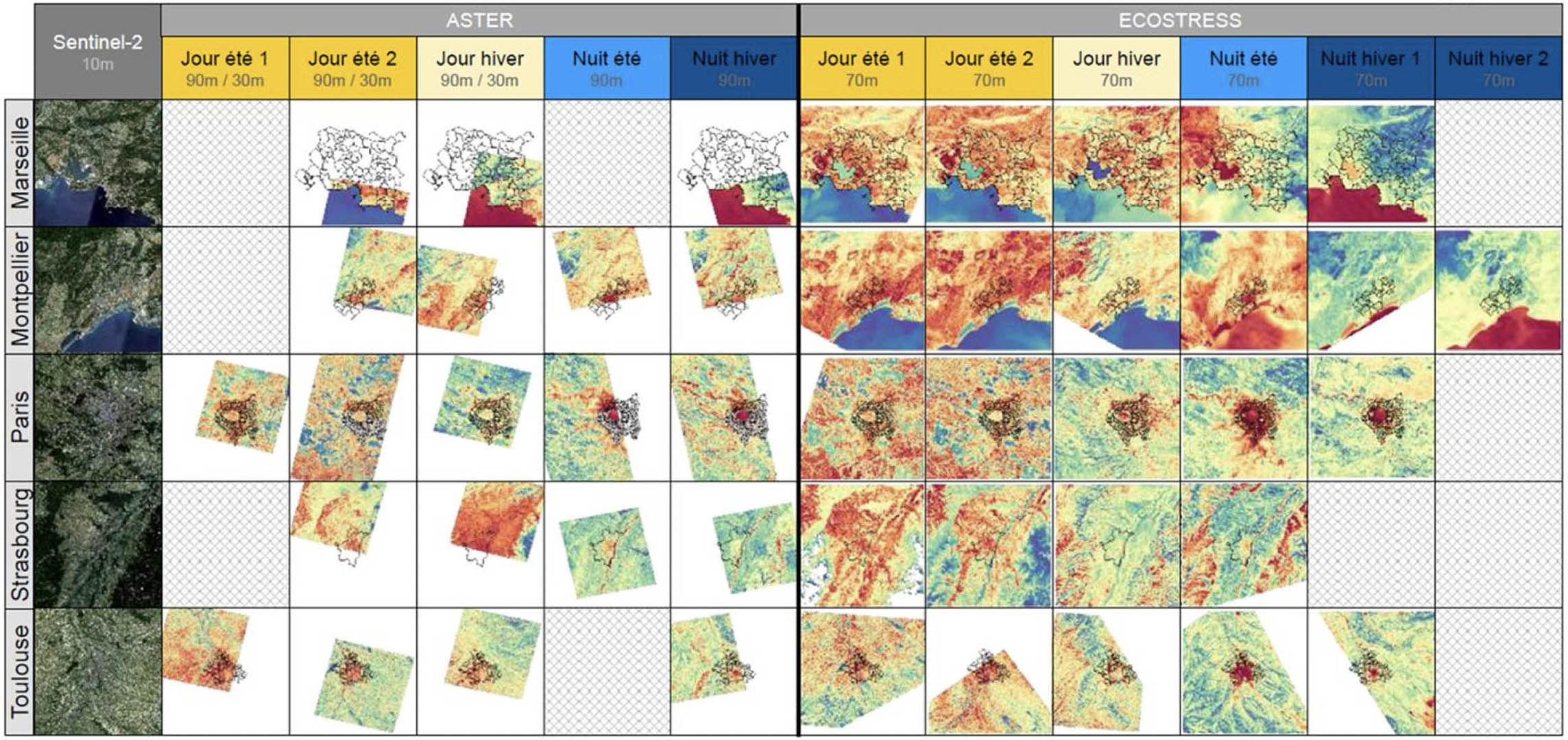 Set of thermal images used in the project. © Thermocity
This collection has generated 4 major product families, two of which are freely available on Theia:
Changes in impermeability/artificialization and characterization of vegetation in cities;
Detection and characterization of thermal anomalies (available on Theia);
Mapping of urban heat islands (available on Theia) and diagnosis of vulnerability to heat;
Urban climate modelling: cross-validation and future climate.
Thermocity is a relevant tool in terms of strategy and planning: in the short term, to identify neighborhoods where action is needed as a priority, and in the longer term to implement city-wide adaptation measures, monitor their implementation and measure their effects. As Vincent Lonjou points out, "The strength of space is its ability to scale up. Thermocity can be transposed to any urban area in any country".
👉 Find out more about these results on the Thermocity page.
An inspiring project
"Thermocity has enabled us to learn how to use thermal data in the city," says Vincent Lonjou.
In fact, Thermocity inspires and even fuels other SCO-certified projects. Two of them can even be considered as sequels to Thermocity:

Sat4BDNB, which will enable the characterization of UHIs and the associated health risk to be scaled up to national level;
ALTELYS, which wants to take measurements inside buildings.

There is also the Green Urban Sat project, which focuses on vegetation and its ecosystem services in the city.

The work carried out as part of Thermocity is also part of the Franco-Indian Trishna mission, scheduled for launch in 2025. Carried out by the French (CNES) and Indian (ISRO) space agencies, this mission will produce thermal imagery of the entire Earth every two or three days. In order to be ready to make full use of this data, which will provide access to new services, CNES and ONERA join forces to support a thesis aimed at refining the processing that is planned to be carried out in cities with Trishna.

At the same time, the CNES is launching a call for tenders "Ambition Aval" to develop a service demonstrator for thermal comfort in cities.
Pioneering and educational
🎥 Adopting a pedagogical hat, Vincent Lonjou uses the Thermocity project to answer questions from four young students from Occitania (France) about climate change, its impact on the urban environment and possible solutions for adapting to it. This video, along with three others, was produced as part of the EducSCO cross-disciplinary project. Watch it here! (in French)