The Migr-Safe method to preserve migratory birds
Published on 10/12/2021
Climate change, landscape evolution and land use are significantly altering the behaviour of migratory birds, which are now in danger. Faced with this emergency, the Migr-Safe project has set up a collaborative and automated methodology to ensure their pilgrimage and protect their stopovers.
Close your eyes and imagine a V-shaped flight of wild geese, and then a swirling cloud of starlings. Are you smiling? Good. Now imagine an empty sky, with no more swallows to announce the return of spring. Scary, isn't it? And for good reason: beyond our pleasure at seeing them arrive, migratory birds provide indispensable services to man and the environment.
On Thursday 18 November 2021, the Migr-Safe team presented its methodology for protecting the travel of migratory birds. It now remains to transform this solution into an operational tool. Investors and other patrons are advised: this is an investment of the heart and above all of the future.
For more conservative adaptation measures
Bird migration is in itself an indicator of climate change. But what exactly is the influence of weather, climate and man-made landscapes on migration? Do birds choose their stopovers according to the resources they fly over or according to the climate?
Labelled SCO in 2021, the Migr-Safe adventure began with a small five-month study to lay the foundations for a methodology capable of answering these questions and, ultimately, protecting the migratory birds' journey. To do this, the project is basing its case study on the wood pigeon, a common species for which there is a lot of data in New Aquitaine (France). And if we have to change our agricultural practices, we might as well do so in a way that benefits biodiversity without harming farmers: Migr-Safe focuses on the interest of agriculture for migratory species.
Innovative and replicable, this methodology therefore aims to respond to the need for knowledge in the agricultural world to help decision-making in terms of agro-ecological transition and redesign favourable agricultural systems. The Migr-Safe method is also intended to raise awareness among a young audience and proposes to :
Take into account the different parameters that impact the mobility and regional behaviour of birds, in the whole space-time dimension;
Combine local community issues and scientific knowledge to accelerate decision-making for habitat conservation and management measures;
Open the collected data and derived indicators to all territories of a migration corridor.
Wood pigeon case study
The data collected revealed three migration corridors for these birds that are faithful to their nesting area. These trajectories were brought to the attention of the farming community with information on the dynamics of the route, in order to identify the plots of land concerned, particularly by the stopovers. By examining the impact of agricultural practices (ploughing, sowing, etc.) on pigeons, a set of recommendations can be formulated for farmers to adapt their practices in favour of this migration. According to Philippe Blondeau, Head of Biodiversity at the New Aquitaine Chamber of Agriculture, "The approach and the advice are very well received by farmers because they are aware of the services provided by biodiversity. Some are already engaged in beneficial practices such as "leaving the field open" to bats that naturally regulate butterfly populations in the vineyards".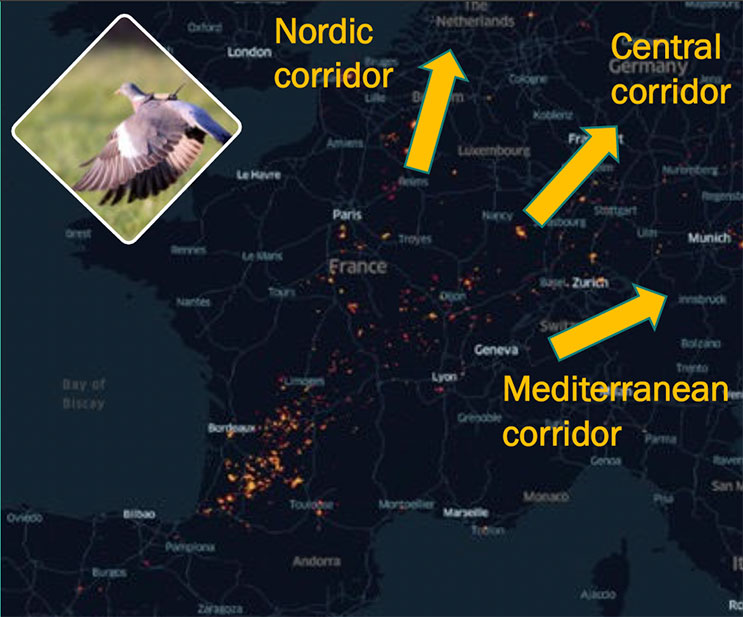 After spending the summer in New Aquitaine, the drop in temperature sends the wood pigeons to the north-east of Europe and, for those born there, to Portugal. However, some have not returned, while one bird remained in Switzerland for two years... Why this behaviour? Deployed on a large scale, Migr-Safe will help answer many questions to better protect them.
"This use case is beneficial for the wood pigeon but also for all the species that follow it. Other endangered birds deserve such monitoring. [Migration knows no borders: ideally, the system should be deployed at the European level," urges Valérie Cohou, GIFS France project manager.
Datasets and AI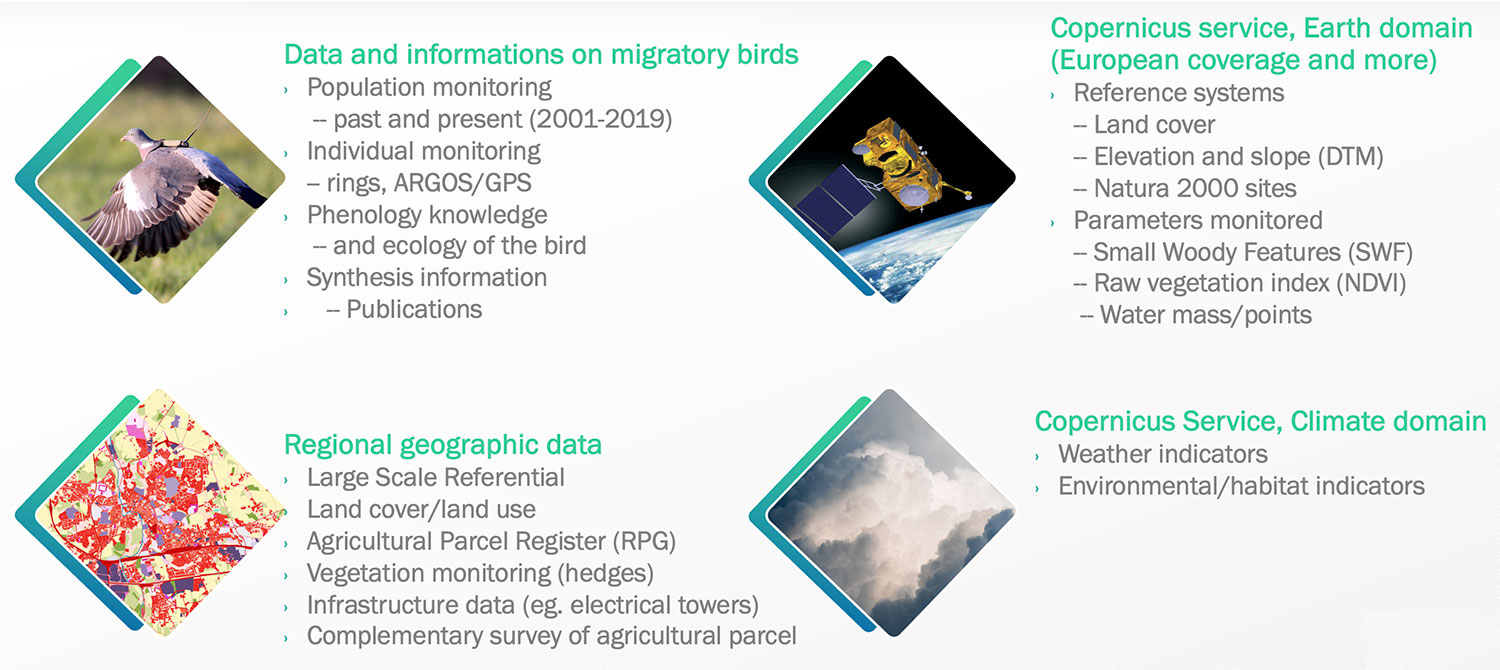 Based on the resources and needs of each partner, the project has identified 4 main types of data to be collected and aggregated. © CLS
Processed by artificial intelligence, these data allow to :
Automatically plot migration routes and stopovers;

Cross-reference these pilgrimages with the agricultural calendar;

Putting migration trends in perspective with climate change;

Generate automatic summary reports ;

Disseminate this knowledge to scientific networks.
Tomorrow: developing a demonstrator
"The methodology is in place, the data has been identified, the partners are ready: we are now in a position to implement a regional demonstrator in New Aquitaine. The ultimate objective will be to demonstrate its replicability to other migratory species, including terrestrial ones," explains Frédérique Blanc, project leader for CLS.
In fact, the Migr-Safe team is building a new case, this time over 18 months, to operationalise three services and demonstrate the use case:
Tracking service: trajectory monitoring, status and change indicators, habitat characterisation, alerts

Regional service: correlation of behaviour with local data to develop management and habitat protection measures

Valorisation service: dissemination of data and case studies, provision of resources and means to better understand migration issues
For more details on the methodology and the proposed demonstrator, download the presentation below. If you wish to support the future demonstrator, please contact Frédérique Blanc.

MigrSafe_Method and observatory project.pdf
Focus on partners
Carried out by the company CLS (Collecte Localisation Satellites) with the support of the Regional Agency for Biodiversity, the project to be followed is taking shape thanks to the partners involved:
The wildlife interest grouping (Groupement d'intérêt pour la faune sauvage, GIFS), to collect field data and take into account the dynamics of migratory birds;

The Chamber of Agriculture of New Aquitaine, to integrate biodiversity into agricultural systems;

INRAE, for access to data and design of geographical indicators useful for habitat models;

CLS, operator of the Argos telemetry system, to develop the technical solution;

CNES to promote the project, particularly among young people.