MIGR-SAFE
If the preservation of migratory birds contributes to sustainable development, their pilgrimage is strongly affected by landscapes, human activities and climate change. Ensuring their journey and protecting their stopovers requires new collaborations between local authorities and scientists. MIGR-SAFE proposes new tools and usable data for each of them.
OVERVIEW
The arrival of birds in spring is one of the great moments we look forward to every year. Because we depend on migratory birds not only to herald the coming of warmer weather, but also for the ecosystem services they provide, such as eating insects or helping to spread the seeds of the fruits they love. On these long journeys, migratory birds face their own needs for stopovers - to feed, rest, breed - and increasing threats such as poaching, habitat loss, poisoning and climate change.
The solutions to be proposed for the conservation of species (or populations) will depend on the spatio-temporal scale addressed, while considering the stakeholders in the protection of biodiversity but also, in a broader business context, the institutions in charge of planning and development at the territorial level.
We have therefore designed the MIGR-SAFE project to create a tool to help preserve migratory animals and study their behavior in the face of climate change and human activities. We rely on a set of data from the past and present, including spatial data, which have their place in these large-scale issues.
In the hands of scientific and associative users, this tool should promote a better understanding of changes in migratory flows and the vulnerability of ecosystems to these changes. The summary information it will contain will help raise awareness and mobilize civil society around biodiversity issues. Exploited, improved and disseminated via the bird observation networks and by regional organizations, this information will thus be able to reach a large public, including schools.
Methodology used
The initial phase consists in establishing the project to co-construct it with its users along 3 axes:
Axis 1: User engagement with a proposal of individual and common values to identify use cases and expected summary indicators;
Axis 2: Technical evaluation of the tool which has a double vocation to deliver:
a service to the scientific community, including an improved ARGOS tracking service

,

a regional map access/sharing service with geo-indicators
Axis 3: Evaluation of the tool's viability and replicability constraints (policy and data flow, interfaces with standard information systems)
The study following these 3 axes must lead to define an operational, stable and perennial solution which will be based on these concrete use cases, with the production of new synthetic information, indicators of state and climate change.
TERRITORY FOR EXPERIMENTATION
New Aquitaine, France
DATA
The project will exploit past and present data from 4 complementary observation domains:
Satellite
Copernicus program (open data)

Static and dynamic landscape and vegetation data

Climate change indicators (monthly average or annual extremes, year-to-year change)

Higher resolution data and/or added value of Earth Observation programs (regional data)

Digital terrain model, land use (static data)

ARGOS/KINEIS telemetry system (private data)

Animal tracking data, here bird mobility (dynamic data)
Other
Urban planning references

Local land use data (static data)

Nature observatories managed by project partners such as the Wildlife Investigation Group (Groupe d'Investigations sur la Faune Sauvage GIFS - restricted access), scientific data on birds (static and dynamic data)
RESULTS - FINAL PRODUCTS
The expected outcomes of the MIGR-SAFE project are threefold:
To make equitably accessible and manipulable spatial and regional data to the scientific-biological communities that study this remarkable biodiversity, in order to better understand the drivers of its erosion.

As an example, English biologists studying the Cuckoo will be able to maintain their monitoring during its flight over Aquitaine.
Create new variables that can be shared more easily and quickly between multidisciplinary communities and land managers, especially through geographic indexes, in order to take measures to help conserve species and habitats.

Typically, in the case of birds passing through an agricultural field or in food-poor areas that will require them to supplement their diet, it will be possible to launch surveys to verify current farming practices, learn about treatments applied to the soil or the need for hedges or other resting points.

Networking stakeholders and creating communication materials for the general public, in order to better interpret and understand the data and synthesis information, but also to motivate participatory science

.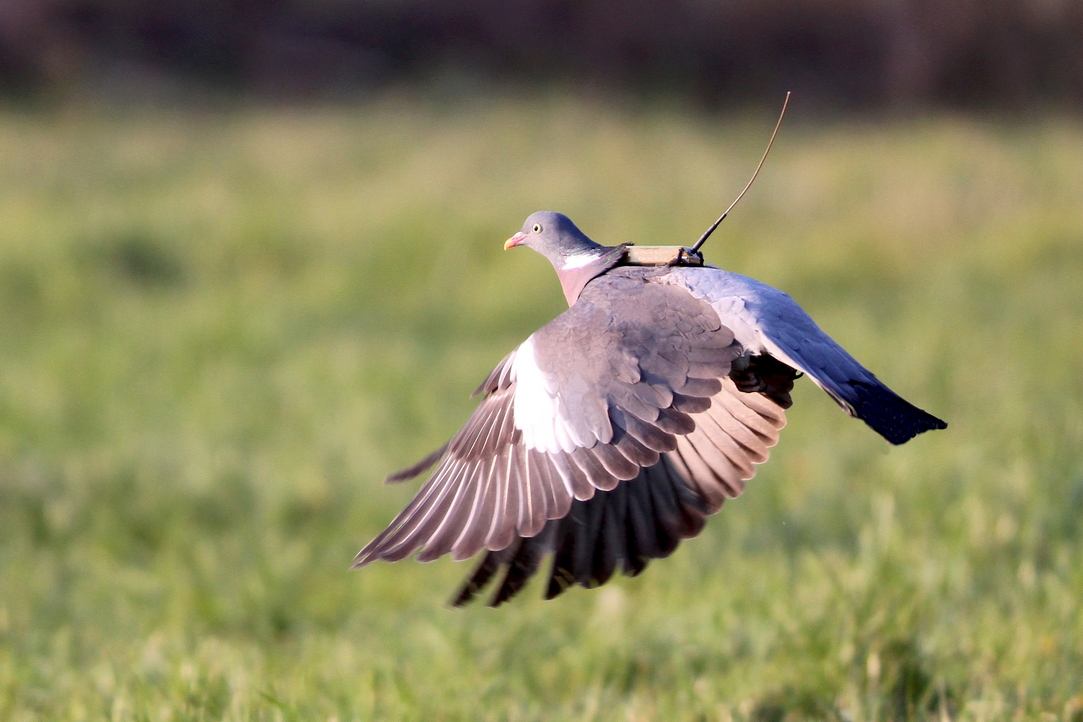 Wood pigeon tracked by GIFS with the ARGOS space system © F. Sabathé - GIFS France
Contact