MIGR-SAFE
If the preservation of migratory birds contributes to sustainable development, their pilgrimage is strongly affected by landscapes, human activities and climate change. Ensuring their journey and protecting their stopovers requires new collaborations between local authorities and scientists. MIGR-SAFE proposes new tools and usable data for each of them.
Project completedThe methodology developed in 5 months now makes it possible to envisage the creation of a spatial observatory for migratory fauna. This initiative is unique in that it combines the knowledge bases and skills and brings together scientific activity carried out on a large spatial and temporal scale with land-use planning and conservation actions carried out on a regional scale.
OVERVIEW
The conservation of migratory birds is a major challenge. Their migrations are strongly affected by weather conditions, landscapes, human activities and climate change. They are driven by the need to stop over to feed, rest and breed, and to cross major natural barriers.
Ensuring their journey and protecting stopovers requires a collaborative response between experts, local authorities and scientists, but also the provision of new data and tools.
This is the challenge of the MIGR-SAFE project, to demonstrate the value of a spatial observatory for migratory fauna, which considers the entire spatio-temporal scale of these birds, the crossing of landscapes shaped by man and climatic variables. Spatial data have their place in these large-scale issues, but they are not sufficient; knowledge of the distribution of birds and land management actions must also be combined.
Use case and territory of experimentation
Our use case project is on the territory of Nouvelle Aquitaine, to understand the interaction between migratory wood pigeons and agricultural crops in order to accelerate the decision-making process for habitat management measures, because the situation is urgent, because the species is evolving, and the landscapes of their seasonal ranges are changing rapidly.
Co-constructed with its users, the methodology developed addresses 3 objectives:
To work on a

generic solution that

allows to merge observations and to release the power of the available data by giving access to scientists and land managers to new exploitable information, a solution that

can be duplicated for other species and other territories

Qualify the use of wood pigeons, to

facilitate the study of migratory flows and regional behavior of the species, putting them in perspective with spatial indicators of presence, agricultural landscape, and other bioclimatic parameters.
Participate in raising awareness and mobilizing civil society

(regional organizations and the school public)

around the issues of biodiversity and less well-equipped bird observation networks, in

order to exploit, improve and disseminate

the data made available to the community.
DATA
Satellite
Copernicus program (open data)

Earth Observation Service: landscape and vegetation monitoring

Climate Change Service: climate change indicators (monthly average or annual extremes, year-on-year change)

ARGOS/KINEIS telemetry system (private data)

Animal tracking data, here bird mobility (dynamic data)
Other
Regional geographical data (static data, millennium): urban planning reference systems, land use, agricultural parcel register, etc.

Information on birds from the "Groupe d'Investigations sur la Faune Sauvage" GIFS (restricted access): more than 20 years of population and individual monitoring, information on the phenology and ecology of the bird, summary information and publications.
RESULTS: Towards a spatial observatory for migratory fauna
Thanks to the methodology put in place, the services and results expected from a MIGR-SAFE observatory are threefold:
Enhanced tracking service:

trajectory monitoring, status and change indicators, habitat characterization, alerts
Objective: To make equitably accessible and manipulable spatial and regional data with new variables on bird dynamics, characterization of agricultural habitats and other environmental and climatic parameters that impact their regional mobility and behavior, regardless of the technical level of scientists-biologists studying this remarkable biodiversity.
Utility: Save analysis time, to better understand the drivers of its erosion and share data more quickly.
Regional service: correlation of bird behavior with local geographical data
Objective: To create new variables, geographical indexes, linking agriculture and biodiversity that can be shared more easily and quickly between multidisciplinary communities and land managers.
Benefits: Accelerate decision making for habitat conservation and management measures, to manage habitats and species simultaneously, to redesign favorable farming systems.
Valorization Service:

centralization and pooling of data and educational resources
Objective: To network stakeholders and create communication materials for the general public.
Usefulness: To better understand migration issues, to better interpret and understand the summary data and information, but also to motivate participatory science.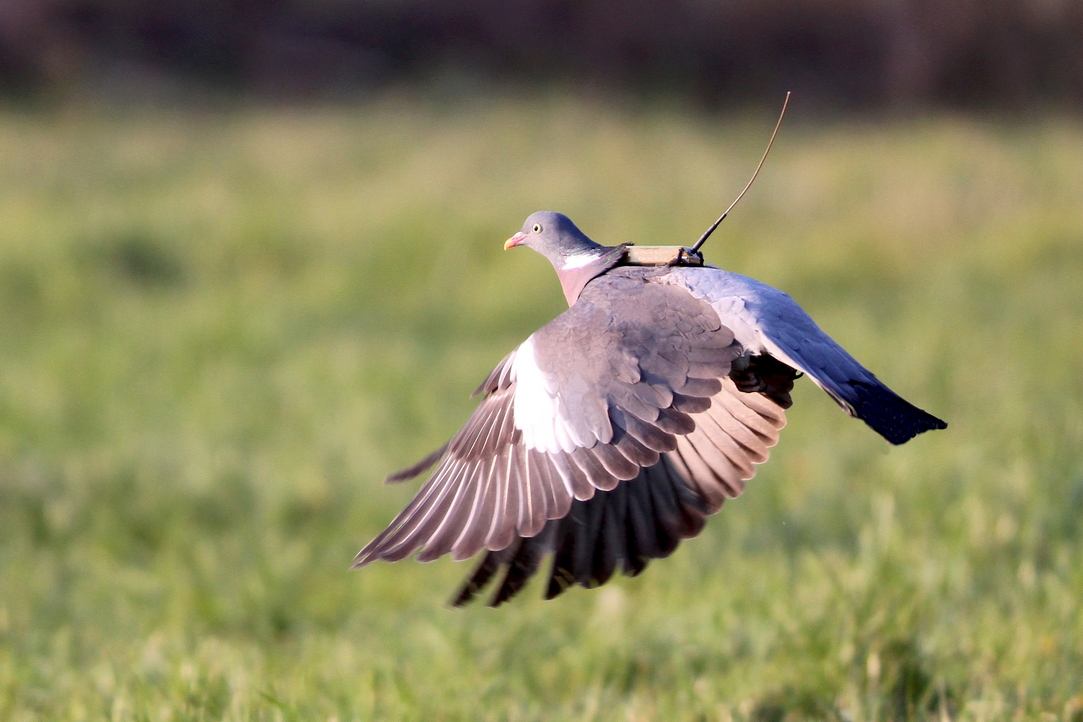 Wood pigeon tracked by GIFS with the ARGOS space system © F. Sabathé - GIFS France
Project news
RESOURCES
Contact