One-to-one with CEREMA
Published on 03/03/2021
With its presence right at the heart of the French territories, Cerema boasts far-reaching knowledge of the history of local issues and contexts. Cerema's cross-cutting, multidisciplinary expertise means that it is well-positioned to support public policy and is regarded as an essential contributor to SCO France's mission. According to Luc Mathis, Deputy Director - Chief Digital Officer at Cerema, France is creating a momentum via the SCO that will rise to the challenges of tomorrow: sharing operational methods and solutions internationally, for all territories.
Cerema is the Centre for Studies and Expertise on Risks, the Environment, Mobility and Urban Planning. Which climate change impacts require urgent attention in French territories?
Luc Mathis : This is an extremely important issue because the impacts are numerous and as real as they are tangible, unfortunately, exposing populations to many risks. Rising temperatures and sea levels come to mind, urban heat islands, floods, etc. These impacts have implications for security, the continuity of economic activities and public services, but also for territorial cohesion and balance. Cohesion and balance are especially affected by such changes because these impacts build up, leading to an extremely complex, multidisciplinary and systemic situation.
The impacts of climate change therefore call for both thematic and global responses. This is where Cerema comes in: our new compass of actions is an integral part of what we are. Its purpose is to support territories from a highly integrated standpoint that is both thematic and global, from awareness-raising to selecting the most appropriate solutions.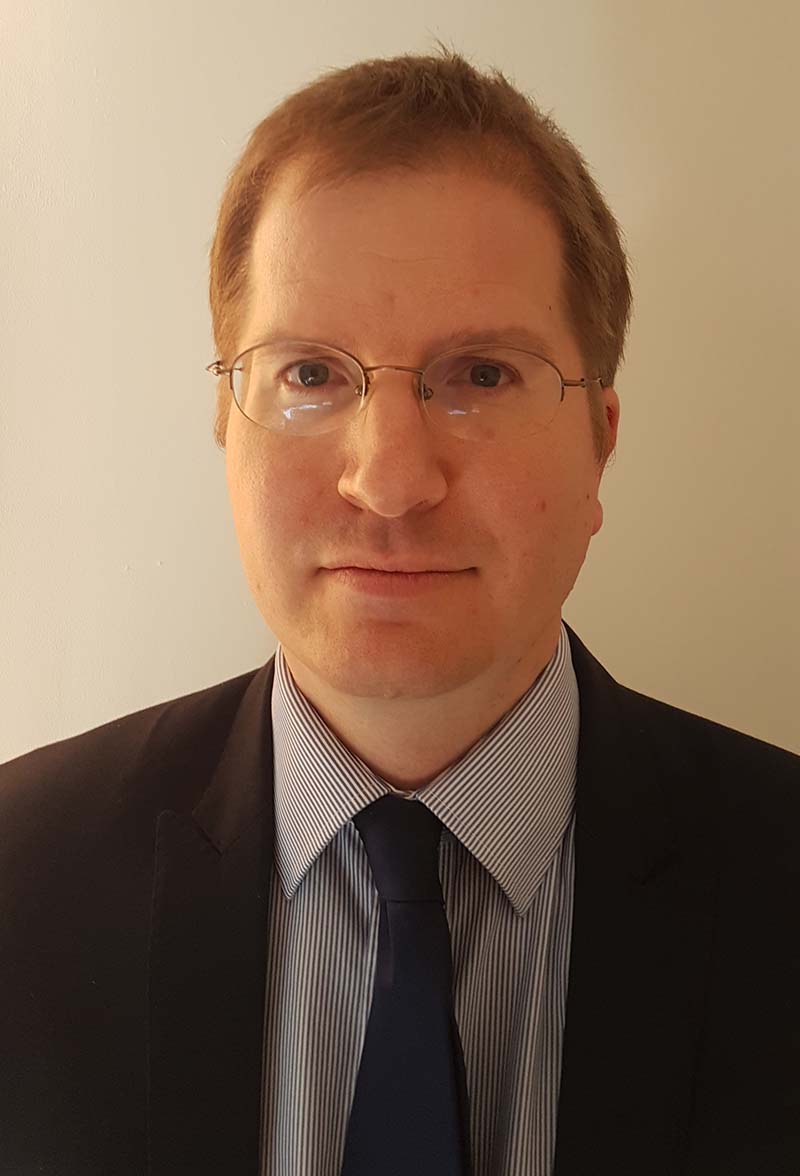 Luc Mathis ©CEREMA
CEREMA decided to join SCO France as soon as it was created in September 2019. How do you view the initiative?
L.M. : Very positively! For starters, the SCO complements other initiatives which were already up and running, such as research infrastructures, the Satellite Applications Plan and the various resource centres. In particular, the Climate Change Adaptation Plan, developed at the request of the French Ministry for the Ecological Transition by Cerema, ONERC, Ademe and other partners who are also members of SCO France, such as Météo-France.
SCO France represents an alliance of skills that draws on science, research and its equipment to take satellite-driven projects forward. It embodies collective dynamics that are resolutely focused on operational actions and territories. In addition, the multi-scale approach is extremely suitable for geographically transposing solutions.
"An alliance of skills and experience, the SCO creates the impetus for the inception of highly operational and transposable projects to bring solutions adapted to all territories. "
You mention the Satellite Applications Plan [2018-2022]. What is Cerema's role?
L.M. : The Satellite Applications Plan is an initiative taken by the French Ministries for the Ecological Transition and Territorial Cohesion to promote the adoption and use by all stakeholders, both public and private, of new tools and data generated by space technologies. Cerema's theme-based expertise means that it inevitably becomes involved and acts as a driving force helping the different stakeholders use these satellite applications in support of public policy. Although our added value lies in our professional expertise combined with an advisory role, we are also proactive in terms of coordination and awareness-raising. Indeed, in conjunction with other parties—notably CNES and IGN—we are implementing the Applisat initiative. It is a platform in support of the Satellite Applications Plan, for raising awareness and sharing to make public stakeholders familiar with the uses of satellite applications and to encourage their development.
On that theme, how is CEREMA involved in the SatLCZ project, which was granted the SCO France label in March 2020?
L.M. : CEREMA is leading this project alongside Airbus Defence and Space with the aim of identifying built-up areas that are susceptible to urban heat islands. The idea is to use previous research and projects to develop a robust and internationally applicable methodology for classifying urban areas into local climate zones—LCZ—using very high-resolution satellite images. The objective is to divide the territories into zones with similar climate behaviour, using only satellite data. Once this classification is done, it will be possible to conduct neighbourhood vulnerability analyses and calculate climate sensitivity indicators. The right levers can then be selected to deal with heat islands and, globally, take climate effects into account to a greater extent in planning strategies. Once we have validated the method in the city of Lille, we will carry out tests abroad to transpose it on a worldwide scale, adapting it to the specific characteristics of each territory.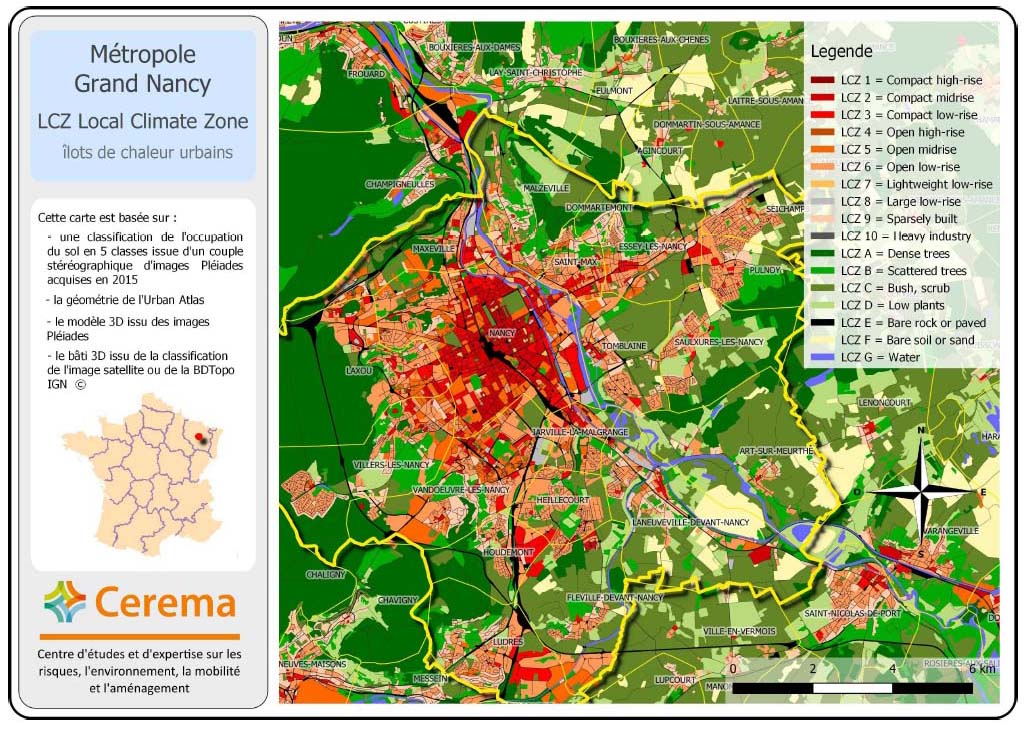 Mapping of urban heat islands in Nancy © Cerema
Which projects are you intending to tackle in 2021?
L.M. : I would like to mention Green Urban Sat at this point. It's a project along the same lines as SatLCZ, conducted in partnership with the territories and researchers, but also with an innovative SME. For this project, the idea is to use high-resolution satellites to define methodologies for the quantitative and qualitative assessment of ecosystem services in urban vegetation. In other words, we want to draw up an in-depth inventory of vegetation in cities to observe its effects, particularly the benefits, in relation to climate change in urban areas.
How will satellite data complement what your teams are already doing in terms of the climate?
L.M. : With a fairly broad thematic range, Cerema carries out many activities within the fields relating to climate change adaptation in the territories: transport infrastructures, mobility, risks, planning, the environment, coastal policies, etc. Although it is impossible to substitute field-specific expertise, space applications are gaining ground and are now part of our toolkit. They also have the advantage of providing frequent data on vast areas of study. We need to mature in this regard and the SCO is a lever for doing so by helping us to develop various tools—for risks, managing natural environments, coastal monitoring, etc.—and indicators, for permeable or impermeable surfaces, etc. The ongoing aim is to provide decision-making tools to local authorities for their planning or adaptation strategies.
What future do you see for the SCO?
L.M. : The SCO will have to "convert the try". We have two years' worth of fabulous, concrete projects, and the promise that the SCO should embody these projects in the months and years ahead. The development aid involved means that there is major international aspect. The territories most affected are often those that do not have the capacity to deal with the situation, and it is therefore important to have a broad-base of mobilisation. France is already conducting projects with partners in Senegal and the Amazon, for example. We now need to disseminate and share all our methods widely to transpose our operational solutions on an international scale by adapting them to the specific characteristics of the territories.
Cerema is a public institution focused on supporting public policies for the ecological transition and territorial cohesion. Through its multifaceted actions, it draws on innovation and research for its missions, shares knowledge and promotes standardisation.