OSS Saint Louis: in the field
Published on 02/06/2022
Automating the use of satellite data means validating the results with field measurements. With this in mind, the OSS Saint Louis project team travelled to Senegal from 3 to 12 May 2022, taking advantage of the trip to promote the project to local stakeholders. From these fruitful exchanges, a common tool should emerge to pool knowledge of the Senegalese coastline and its vulnerability to climate change.
This mission, which was essential for consolidating the development of the expected tools, was led by the three project coordinators: Benoit Laignel and Julien Deloffre, from the M2C laboratory at the University of Rouen (France), and Issa Sakho, from the Amadou-Mahtar M'Bow University in Dakar (Senegal).
Field measurements and findings
Surveying the coastline of Saint Louis, the team was able to identify thirty or so critical installations in the face of coastal erosion (bridges, electricity transformers on the banks of the Senegal River, schools, emergency services, etc.) and the protective measures (dykes, riprap, etc.) that had been put in place.
As shown in the image on the left, where the newly installed riprap has been displaced by the sea, this type of action only offers temporary protection against coastal erosion. On the right, natural and local materials installed on the Langue de Barbarie seem to resist better, as observed by Benoit Laignel (URN) and Captain Didier Kabou, Curator of the Saint-Louis Marine Protected Area. © SCO-OSS St Louis
In order to calibrate and validate the satellite data processing algorithms developed within the framework of the project, the team took care to measure the precise positions (longitude, latitude and altitude) of remarkable points (such as the altitude of dykes) as well as the topography of a typical beach profile.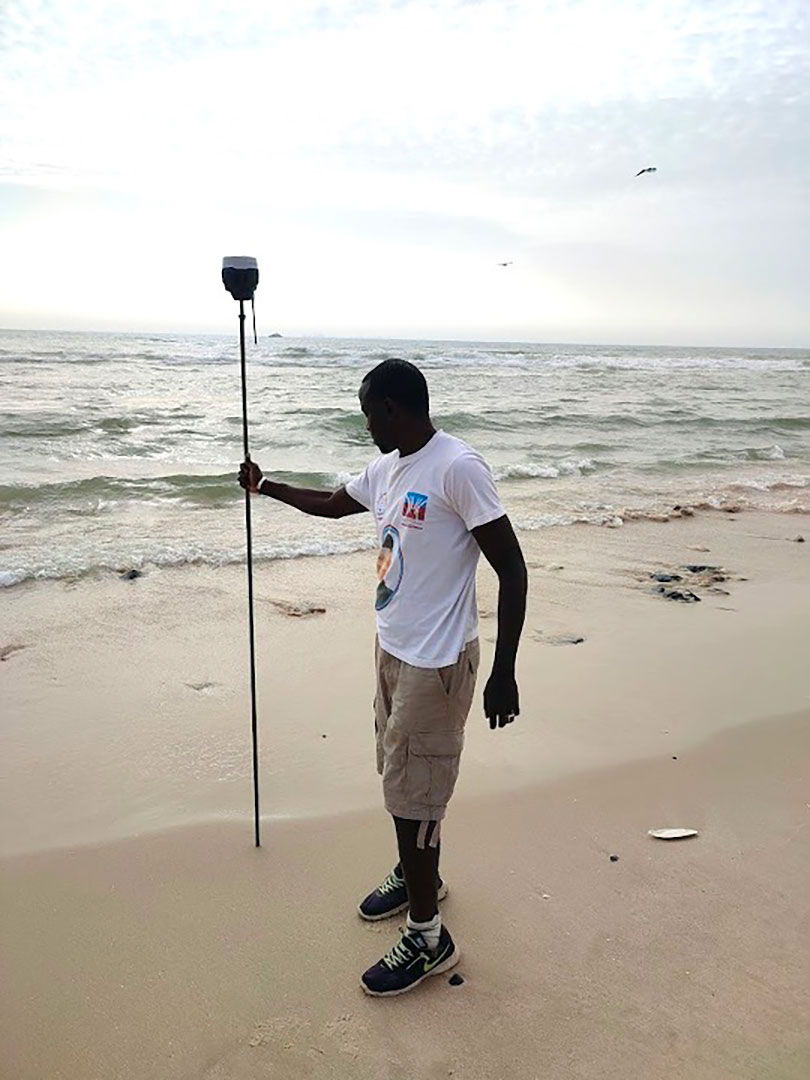 Issa Sakho measuring the topography of the beach of Saint Louis using the GNSS-RTK method. © SCO-OSS St-Louis
3 meetings around the project
Despite the fact that there are a number of funders and projects on the Saint-Louis coastline, there is no concerted approach or common database for the projects, which means that information is lost. Furthermore, the Senegalese territory does not have any training on the functioning of the coastline, the impact of climate change and solutions to combat erosion.
As these three points are the very objectives of the OSS Saint Louis project, the team went to meet various actors concerned by these issues: AFD, UNDP, the Ministry, universities, local authorities, parks, the cooperation and cultural action services, etc. Three meetings were held: two in Dakar, at the UNDP (United Nations Development Programme) and the French Embassy, and one in St Louis.
At the end of these exchanges, it was proposed to create a Coastal and Water Institute, with the aim of developing a common tool for the development of knowledge, training in coastal risks for the actors of this territory and innovations at the service of the decision and the community.