SCO in Gabon
Born under the impulse of Gabonese Agency for Space Studies and Observation (AGEOS), SCO in Gabon is the local representation of the international SCO initiative.
1 Context
As a signatory to the Statement of Common Interest in October 2019, Gabonese Agency for Space Studies and Observation (AGEOS) renewed its commitment to international SCO by signing the Founding Charter in June 2022. This membership is in line with Gabon's national climate policy to implement local actions against global climate change, reducing CO2 emissions and building resilience to the effects of climate disruption.
Indeed, thanks to its forest cover, which covers 88% of its territory, or 23 million hectares (AGEOS, 2020), Gabon stores significant carbon stocks, which contribute to climate change mitigation at the global level. According to the Intergovernmental Panel on Climate Change (IPCC), Gabon is one of the countries that are highly sensitive to the impacts of climate change. For this reason, and due to the will of political decision-makers, structures such as AGEOS are developing tools and acquiring satellite and in situ data to monitor natural resources. Alongside the Ministry of Water and Forests and the National Agency for National Parks, these initiatives benefit from a significant contribution from the world of research with universities and non-governmental organisations for concerted action in favour of sustainable environmental management.
AGEOS has already actively participated in the various steering committees and in the drafting of the currently validated SCO charter.
2 Implementation of SCO in Gabon
SCO in Gabon was launched through the organisation of a national workshop on 28 May 2021 in Libreville with the objectives of :
Mobilise national partners around the interest and organisation of a national SCO,

Start work on the Terms of Reference of SCO in Gabon, leading to a charter,

Mobilising partners for the development of a Gabonese Mangrove Monitoring System project.
The added value of a Gabonese SCO initiative would be to :
Initiate or promote local projects with themes related to monitoring, mitigation and adaptation to the effects of climate change;

Stimulate local expertise in the field;

Popularise and promote results, data, methods and tools;

Provide knowledge and infrastructure for ;

Raise awareness of the importance of Earth observation for climate action.
3 Actors and partners
Under the leadership of AGEOS, as a space agency, the SCO initiative in Gabon brings together local actors directly concerned by the fight against global warming and who confirmed their willingness to join during the launch workshop: The Ministry of Water and Forests, the National Agency for National Parks, the National Centre for Scientific and Technological Research (CENAREST), the laboratories of the Omar Bongo University and the National Institute of Agronomy and Biotechnology (INSAB) of the University of Science and Technology of Masuku, the High Commission for the Environment and the Living Environment, municipalities, environmental NGOs, and many others.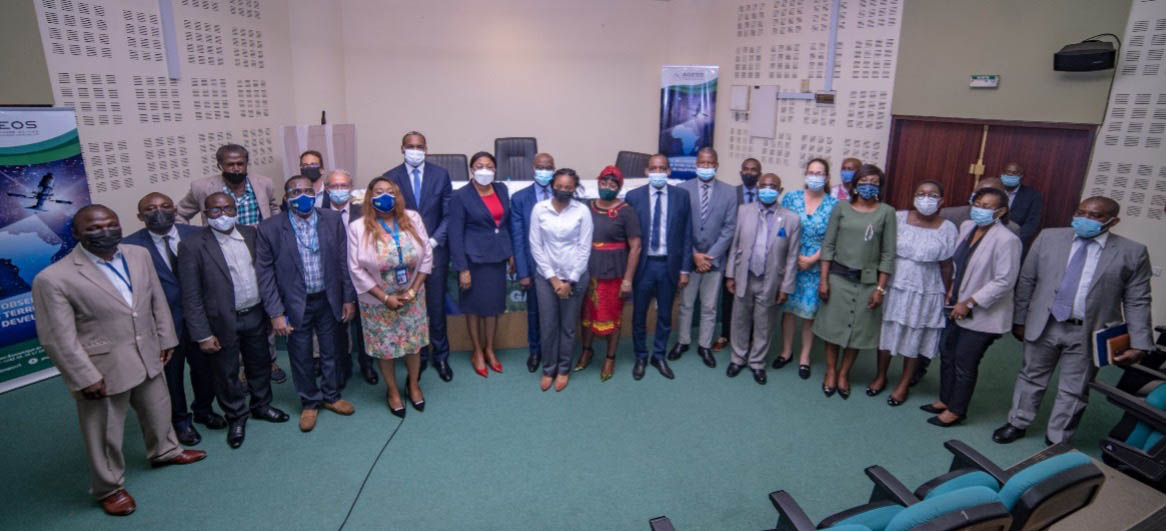 Workshop to launch SCO in Gabon on 28 May 2021 in Libreville. © AGEOS
4 Projects
Development of a monitoring system for Mangroves in Gabon (SUMAG)
Mangroves are recognised as the most efficient carbon sink (Donato et al., 2011; Kauffman et al., 2011). Indeed, due to their very high primary productivity and anoxic soil conditions that limit decomposition processes, mangroves have the capacity to store exceptional quantities of carbon, i.e. 1023 mg/ha on average (Donato et al., 2011).  Despite the many ecosystem services they provide, such as coastal protection and biodiversity, they are highly threatened by human activities. For example, their global area has decreased from 18.8 million hectares to 15.2 million hectares in 25 years (FAO, 2007). In Gabon, efforts to stop or slow down the degradation process of mangroves suffer particularly from the lack of data and knowledge on this ecosystem at the national level. Given their importance in mitigating (carbon sequestration capacity) and adapting (coastal protection) to climate change, it is imperative to characterise and understand this ecosystem and its dynamics in order to encourage the establishment of an appropriate legal and institutional framework for its protection and monitoring. Earth observation tools present considerable advantages for the understanding and monitoring of mangroves because they allow for better repeatability of measurements in this environment that is difficult to access, better discrimination through the multiplicity of satellite sensors available, but also proven methods for processing information.
SUMAG project aims to mobilise remote sensing tools to better characterise the functioning of this ecosystem, to support its management and to optimise its preservation and valorisation through popularisation and awareness-raising of the public and political decision-makers. To this end, it plans to set up a mangrove monitoring and management platform that can provide a sustainable response to the problem of mangrove degradation. It is aimed at governmental and non-governmental actors involved in the management of this coastal environment with high economic, heritage and environmental value.
The project has already been validated by SCO and will be submitted for labelling. A draft of the platform has already been developed with own funds and its finalisation requires the mobilisation of additional funding.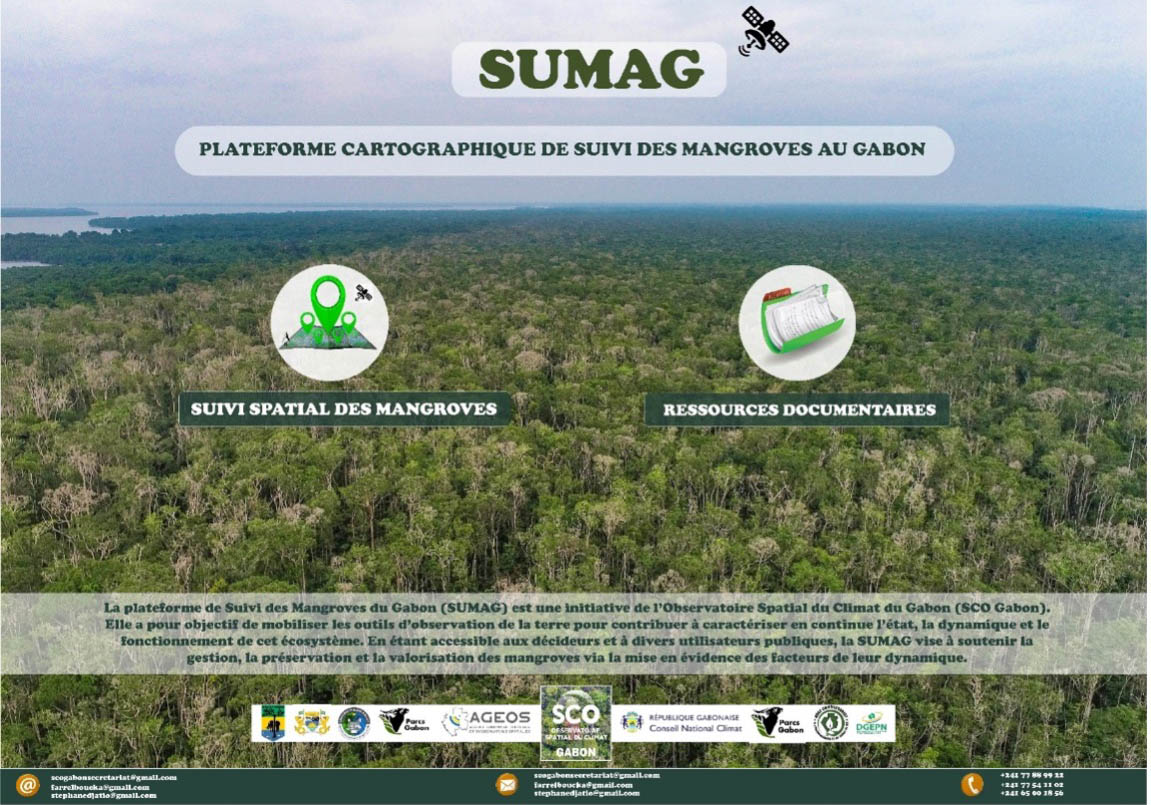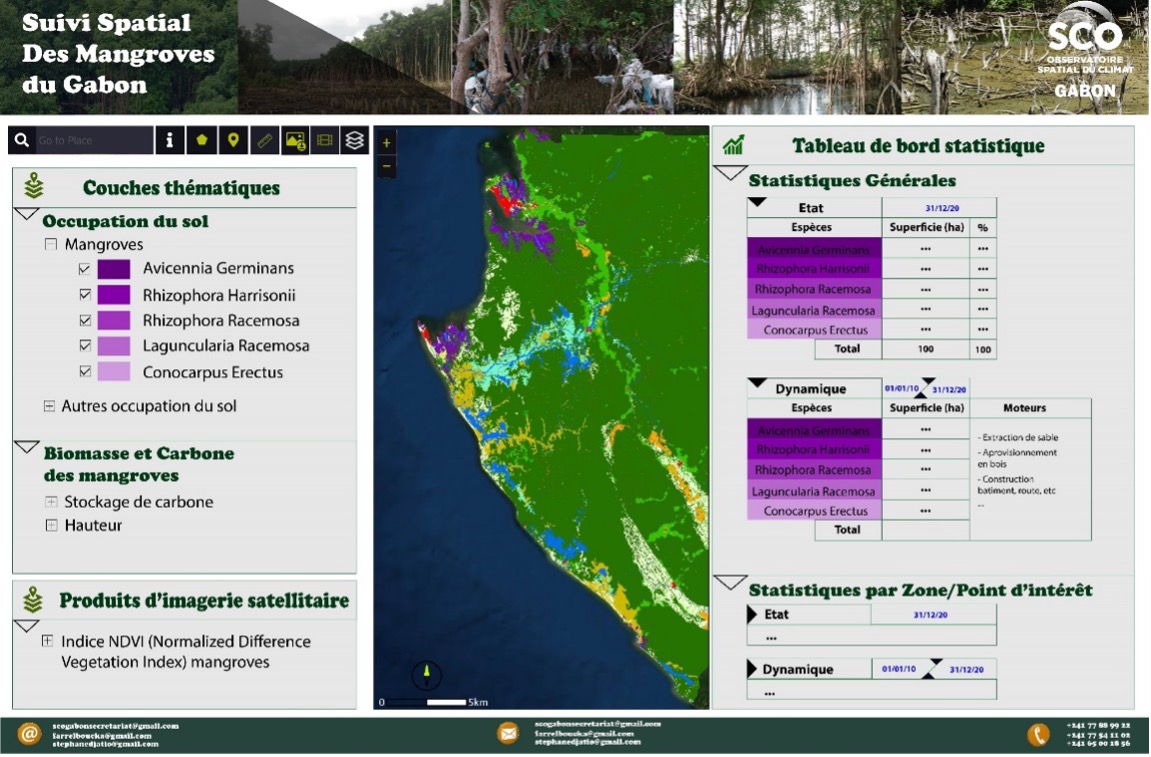 5 News from SCO in Gabon