Stock Water India
Dams are strategic tools for countries and their management of water resources. StockWater aims to put in place a system for monitoring the load of dams based on satellite data, and a specific processing system, thereby facilitating the work of the public authorities in this area.
Creating global monitoring of the load of hydraulic dams
OVERVIEW
Water resources monitoring, including surface and ground water, is a vital issue for governments and public institutions.  Water resources are essential for society and economic activity (drinking water, irrigation, hydroelectricity, industry, flood control) and for natural and water ecosystems.
Generally, reservoirs stock information is collected and held by the local reservoir managers (public or private). Regional and national authorities might access this information with a certain latency, which depends on national water policies. Central authorities are then confronted to 2 issues: long latencies to retrieve water stock information and sparse or inexistent information about the small reservoirs.
Stock-Water project holds a partnership initiative, open to new countries willing to participate, that proposes a global solution to monitor reservoirs stock volumes based on frequent satellite measurements. This solution is based on reservoirs area monitoring by imaging satellites (Sentinels 1&2). Volume information is then derived using digital elevation models (DEM) around reservoirs areas. Recent prototypes have been qualified on 29 reservoirs in France, ranging from 20 to 1600 hectares, yielding incertitude below 15% on volume rates.

Figure 1. DEM Analysis to retrieve Elevation/Area/Volume relationships for each reservoir © ESRI/CNES
TERRITORIES FOR EXPERIMENTATION
Today's Stock-Water partnership is extented to IRD collaborators in
India
Tunisia
Laos
Burkina Faso
DATA
Satellite
Sentinel 1, Sentinel 2 for reservoirs imagery

DEM Copernicus issued from satellite (TandemX)
In-situ
Elevation/Volume time series from some reservoirs to qualify volume estimations
RESULTS - FINAL PRODUCTS
Volume Rate indicators will be produced weekly for the selected dams at every partner country.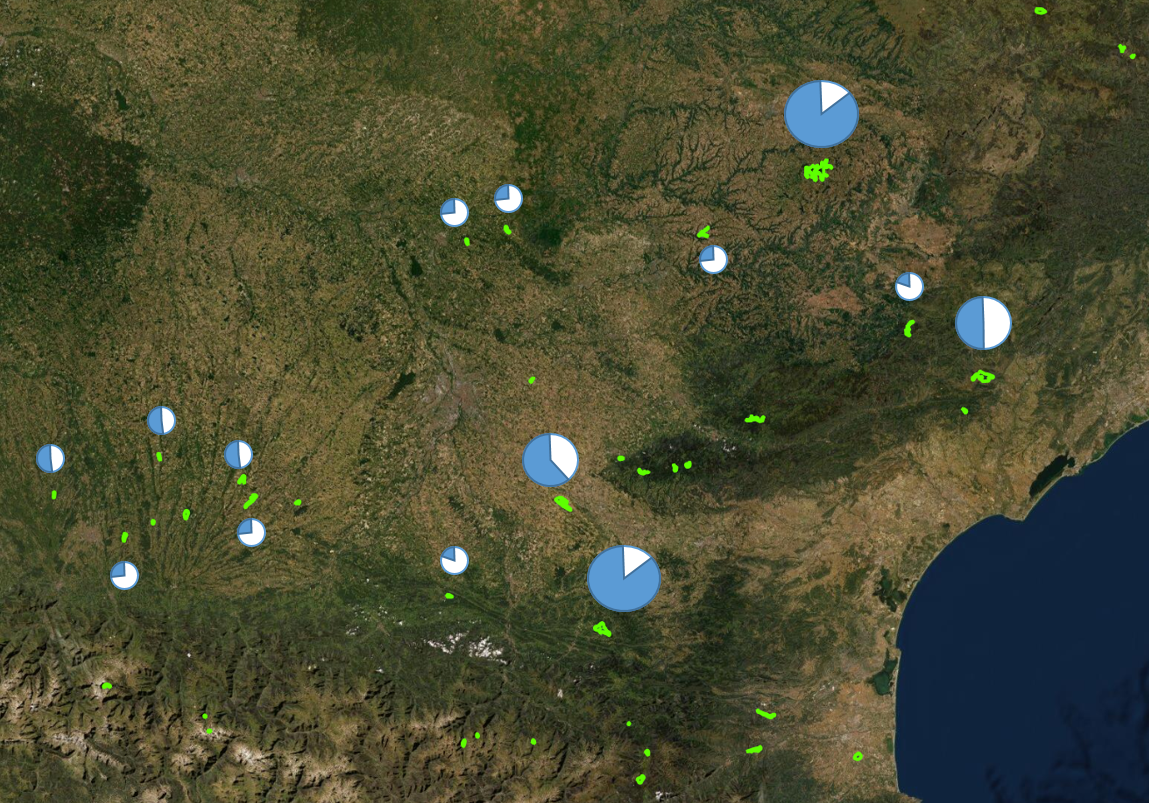 Project news
07/04/2022: Presentation of the Stock Water project and its progress at the 4th Quarterly Meeting of the SCO France on the theme "Water management and vulnerability of territories"
Contact