Eo4MountainPastoralism
How does climate change affect high altitude wetlands and how does it influence agro-pastoral practices? This project aims to propose advanced statistical indicators to document the evolution of these areas from Sentinel data, with the originality of correlating physical indicators to expected ecosystem services.
Safeguarding mountain pastoral systems: eco-hydrological indicators from Earth Observation image time series
OVERVIEW
High altitude wetlands (> 1500 m) are a richness of mountain territories and a natural heritage of the Mercantour National Park (PNM). Mainly located in mountain pastures exploited by pastoralism, this activity can degrade wetlands, their biodiversity and their ecosystem service functions, as well as shallow altitude lakes due to the pollution generated by dejections and trampling.
In the context of climate change, these particularly sensitive environments will be the first to be impacted by summer drought, which is why the PNM has developed a restoration and monitoring plan for all wetlands located in the mountain pastures. The objectives of the plan are 1) to have a dedicated dashboard that links all the data and allows to visualize the state of the wetlands and to measure their spatial and temporal evolutions, 2) to propose a monitoring of the state of conservation of these environments, especially in terms of biodiversity, and 3) to implement actions of reasoned management in consultation with the breeders, the shepherds and the other users. For these three actions, the PNM uses ground observation networks which, for a systematic monitoring, must be coupled with repeated and high resolution satellite observations.
The objective of the SCO project is to generate products allowing a fine description of these environments every 15 days (in non-winter period, from March to November) and at high resolution (aggregated pixel of 30 x 30 m) at the scale of the whole territory (685 km2). The basic unit of analysis is the wetlands (and alpine pastures) with a surface of less than 1000 m2 (corresponding to a total surface of about 100 km2 on the territory).
The product portfolio will consist of a set of quantitative environmental/eco-hydrological attributes and indicators allowing 1) to document the spatio-temporal evolution of wetlands and their properties, and 2) to propose decision support tools for short-term (e.g., relocation of alpine pastures under water stress or biomass loss conditions) and long-term (e.g., establishment of relationships between climatic forcing and wetland properties, monitoring of species (re-)colonization) management practices.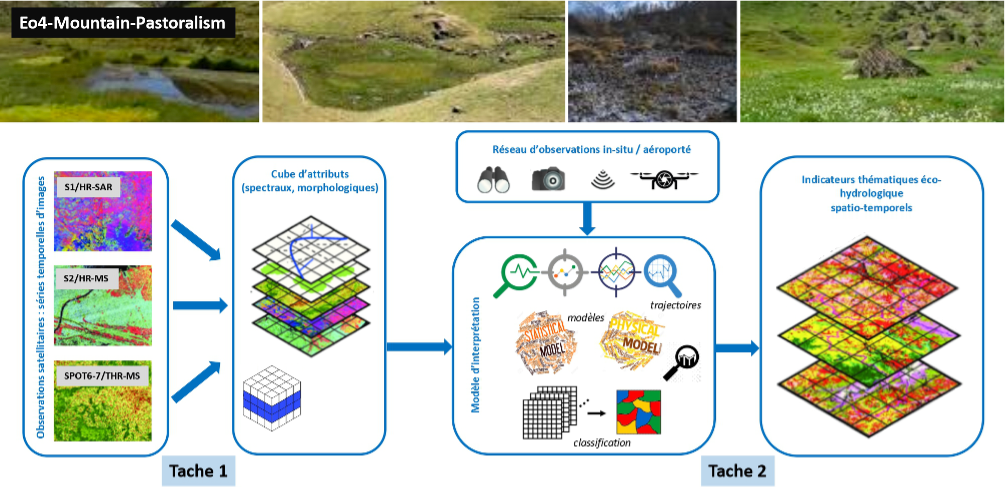 Concept of the Eo4Mountain-Pastoralism project adapted to wetlands and their ecosystem services in the Mercantour National Park territory. © EOST/A2S – PNM, 2021
TERRITORY FOR EXPERIMENTATION
France, Mercantour National Park (Alpes-Maritimes and Alpes-de-Haute-Provence)
DATA
Satellite
Sentinel-1

Sentinel-2

SPOT 7

Pléiades
Other 
PNM ground observation network
RESULTS - FINAL PRODUCTS
The following mix of products and services is prioritized for an initial phase of method development:
The production of harmonized and merged spectral and morphological attribute cubes at the territory scale from Sentinel-1 and -2 satellite data time series, completed by three annual Spot 6/7 THR acquisitions (May / July / September).
The creation and production of environmental/eco-hydrological indicators that link to wetland ecosystem services (moisture indicator, biodiversity indicator, biomass indicator, etc.), linked to in-situ surveys and observations.
Integration of the indicators in a map visualization interface interoperable with the PNM information system, and provision of a toolbox (methodologies, open-source codes) for the user community, as well as online and on-demand information production services.
The valorisation of the products with the drafting of interpretation sheets of the indicators and the organisation of training for the use of the products and services by the actors of the territory.
Project news
Contact