SCO in France
As the national offshoot of the international initiative, the SCO France aims to bring together the scientific community, public authorities and the business world around solutions for mitigating and adapting to the impacts of climate change. Through its role as a driving force in France, SCO has become a major player among initiatives using satellite data to contribute to the climate effort.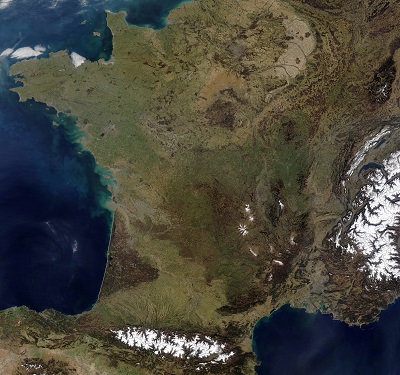 As the SCO initiative was born in June 2019 at the instigation of France, the French Space Agency CNES (Centre National d'Études spatiales) was immediately entrusted with the implementation of the SCO in France. This national implementation aims at rallying the creation of other SCOs in other countries, and has therefore created a general model – in terms of global structuring, organization and animation – to be shared with other Signatories.
1 Presentation
Launched in November 2019, SCO France is managed by an Inter-Agency Committee (IAC) made up of 22 French public entities operating in the field of climate action, including the Ministry of Higher Education and Research and the Ministry of Ecological Transition and Solidarity.
The CIO meets at least twice a year. An Executive Board oversees the smooth operation of the Committee and coordinates its work.
SCO France strives to accompany national public policies on climate change and therefore implements an annual call for projects in the priority areas set out by the government in its climate policy.
2 Objectives
The SCO France pursues the objectives set out by the international initiative:
To offer decision support tools to monitor, evaluate and anticipate the impacts of climate change. These applications centre around multiple dimensions: historical data analysis, development of impact scenarios, projections of changes in the territories and their consequences on the populations in order to help decision-makers respond to the challenges of adaptation. The SCO builds upon existing data produced by international programs (Copernicus, EUMETSAT, NOAA, etc.) and existing national climate services (DRIAS, etc.) to promote the interoperability of local socio-economic data (population, urbanisation, protected areas, agriculture, linear and local infrastructures, etc.), in order to provide decision-makers with key data allowing a precise analysis of the vulnerability of their territory to climate change.
To adapt and implement the methodologies and tools to other areas in the world in order to develop a comprehensive and quantified assessment of the situation. The SCO thus contributes to the adaptation component of the Paris Agreement in a coordinated manner at the international level with common metrics for relevant sectors. Thanks to digital innovations such as Artificial Intelligence, the tools can easily be tailored to other national and local levels.
A long-term objective is to provide policy makers in all countries with a set of tools and to build internationally recognized models, allowing for an objective assessment of the impact of public policies in the fight against climate change at the relevant scales.
3 SCO Projects: a "use case" approach
The goal of SCO France is to create a community capable of providing feedback and detailed requirements for climate adaptation and mitigation through an approach based on specific use cases.
Every year in September, SCO France opens a call for projects. During a few weeks, the labelling committee – composed of CIO members and European partners – assess the applications against precise criteria. The first and most important one is to answer the immediate needs of local geographic area using space data.
To achieve this, a SCO project should involve several families of players within its consortium:
The scientific community, whose research studies result in practical solutions by analysing and modelling available data – be it satellite or socio-economic data;
National and local authorities, as well as municipalities, which are responsible for adapting the project at grassroots level;
Regional engineering players, whose technical expertise is the most relevant for the scale of the problem;
Companies and design offices able to deliver an industrial and operational response linking scientists, data and the population;

CNES contributes its space expertise, regardless of its direct involvement in the consortium.
Thanks to this unique involvement, local decision-makers and the general public are progressively gaining access to crucial tools for planning resilience-focused actions that are essential in the face of climate challenges.
Projects that are accepted as SCO Projects benefit from tailor-made technical and financial support, as well as communication at national and international levels.
4 Community feedback
After being accepted as SCO Projects, participants become part of the SCO community, and agree to contribute to its development for the benefit of all. In order for the solutions developed to be easily adapted to other places and contexts, this feedback should preferably include all data, algorithms and technical components. Bilateral or multilateral cooperation projects are eligible, and collaborations involving other SCO Signatories are encouraged.
5 Resources
Resources to download:
Access to satellite data and products :