TAHATAI Polynesia
TAHATAI aims to develop, implement, automate, operate and replicate on a Pacific scale, online digital resources (satellite data, apps, expertise, indicators), useful for the governance of the coastal zone. These resources will be integrated within a new generation digital platform, called "horizontal".
OVERVIEW
The Polynesian coastal zone is the privileged place of exchanges between the terrestrial and maritime parts, where numerous uses converge. Particularly vulnerable to climatic hazards due to its proximity to the sea, this complex interface requires a horizontal, integrated and evolutionary approach to all the issues.
Within the framework of the French Polynesian Government's global "Marine Spatial Planning" program, TAHATAI's objective is to develop, implement, automate, operate, and replicate on a Pacific scale, new digital resources useful for the governance of the coastal zone. These new digital resources result from the convergence of a bundle of information from space, local databases, field knowledge and intuitive interfaces. Intended for decision makers in French Polynesia, they will allow a better understanding of the evolution of current phenomena related to climate change and the anticipation of risks in the area of use. The approach, based on cognitics (automation of knowledge processing) and interoperability, is designed to be replicable and operable at a lower cost on all Polynesian archipelagos, and then on all Pacific states.
Two challenges are particularly addressed:
The identification of areas of vulnerability on the coast and the anticipation of risks for the population;
The protection of marine biodiversity on which local populations depend.
TAHATAI aims to improve decision-making processes on the basis of reliable, understandable and comprehensible information for decision-makers in the time available. It will aim to make the dialogue between decision-makers and scientists more fluid, and will tend to concretely operate targeted indicators over the long term, and to make them evolve in number and quality.
Methodology
For all this, TAHATAI relies on the Qëhnelö™ technology developed by the company BLUECHAM SAS. It enables the deployment of digital decision support platforms in environmental planning and management. Qëhnelö™, entirely in the Cloud and equipped with a simple and intuitive interface, is part of the new generation of geographically oriented systems.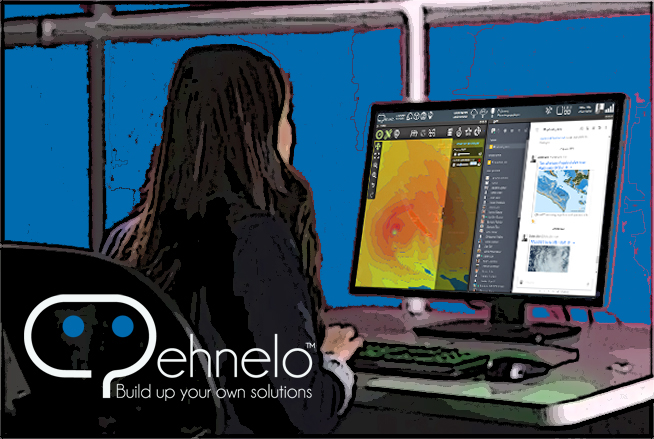 QHUB decision support © Qëhnelö™ GEO Intelligent Digital Platforms / BLUECHAM SAS 2021
TERRITORIES FOR EXPERIMENTATION
The project is developed on :
The "high island", a test site in Tahiti (French Polynesia)

an "Atoll" site embodied by Arutua (Tuamotu archipelago, French Polynesia)

Koné,

the experimental site of the eQOD project for

coral reef management in New Caledonia
RELATED PROJECTS 
Through the technological approach of knowledge convergence, TAHATAI is closely linked to several existing projects:
This project is led by the French Polynesian Marine Resources Department (DRM/PF), whose overall objective is to achieve better planning of competing uses of the maritime domain in French Polynesia to preserve both the resource and the economic activity of the blue economy.
The TAHATAI project will enrich the analyzed and updated databases on coastal and maritime areas. The cross-referencing of reference information and sources made available by TAHATAI will allow the identification of fragile areas or areas exposed to environmental phenomena (rising waters, algal blooms, high temperatures) and human activities (overexploitation, urbanization, conflicts of use, pollution) in order to act both in the short term (administrative management of authorizations, repression, reactions to crisis situations) and in the long term (prevention, planning of the exploitation of resources and surfaces, prediction of events)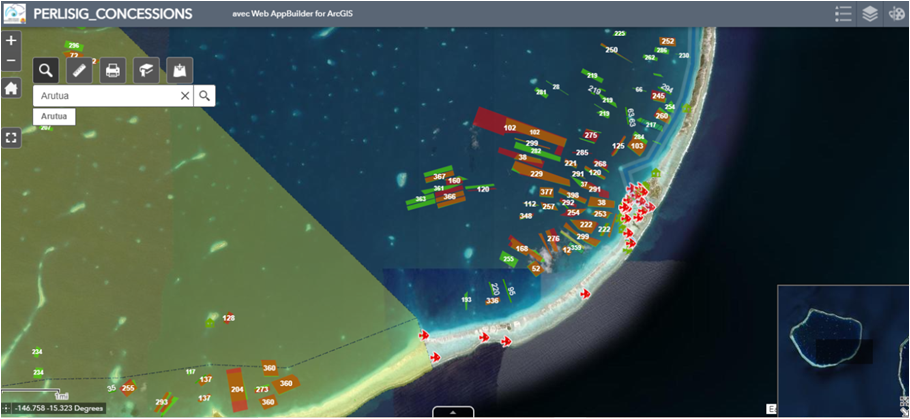 Arutua Atoll fishing/pearling authorization database © DRM 2021, Gouvernement de la Polynésie Française
eQOD- Interoperability of eReef and Qëhnelö™ systems, for coral reef management in New Caledonia and Australia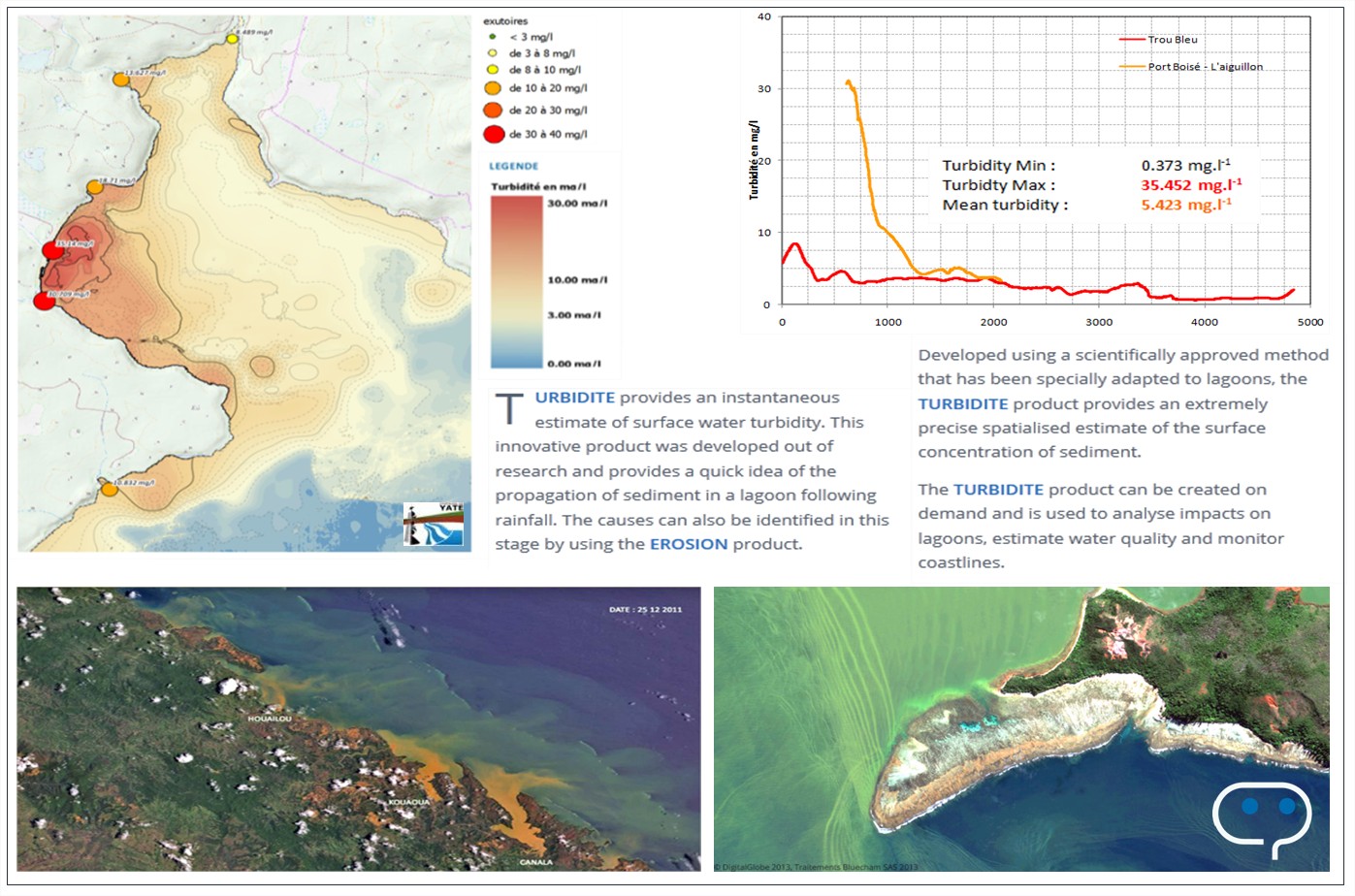 eQOD project of model coupling for coral reef management © Qëhnelö™ GEO Intelligent Digital Platforms / BLUECHAM SAS 2021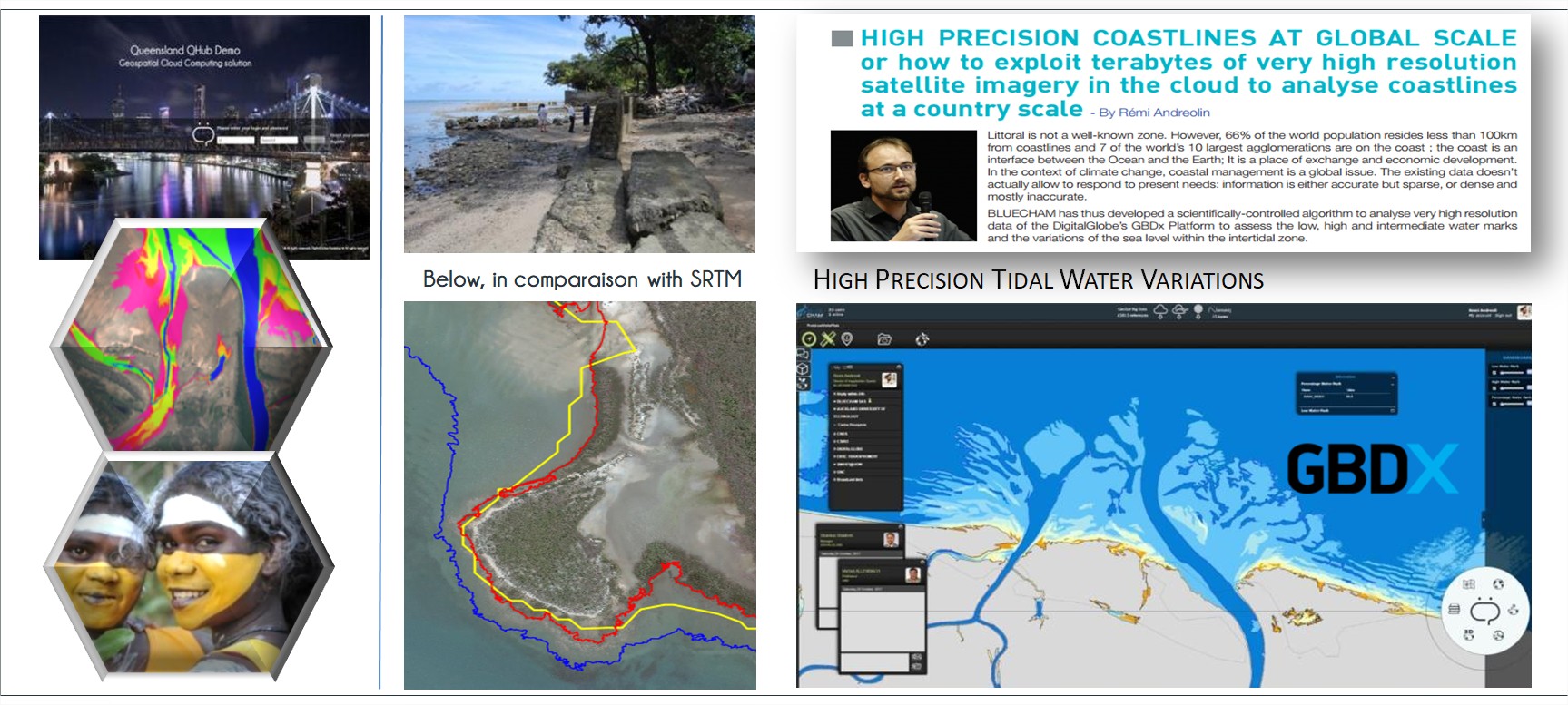 QHUB for accuracy calculations on coastline evolution (Northern Australia) © Qëhnelö™ GEO Intelligent Digital Platforms / BLUECHAM SAS 2021
SMART

-

Analysis and monitoring of coastal subsidence, Southeast Asia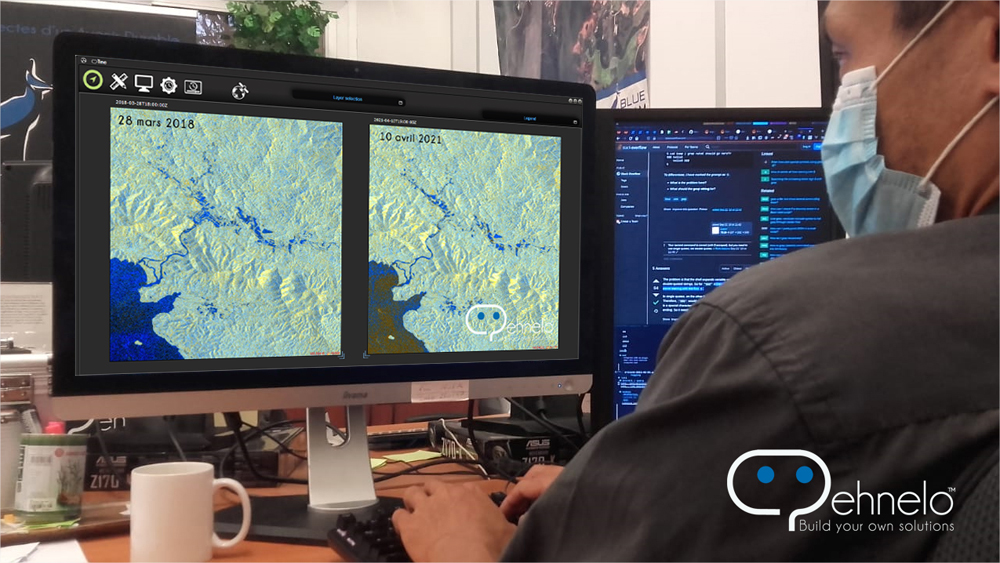 SMART coastal radar analysis program © Qëhnelö™ GEO Intelligent Digital Platforms / BLUECHAM SAS 2021
ANR SEAMOUNTS, connectivity of seamounts, with environmental DNA approach
Oasis of biodiversity, seamounts are among the least known habitats on the planet. Yet they are undergoing increasing human impact that could impact vulnerable species. SEAMOUNTS proposes, through the dedicated Qëhnelö™interface, to characterize the three-dimensional distribution of vertebrate diversity and abundance on Caledonian seamounts by combining metabarcoding (a molecular cataloging and identification technique) of environmental DNA, seascape genomics, artificial intelligence and baited video. The objective is to understand the relative influence of human, environmental and geomorphological variables on seamount fauna in order to better protect it.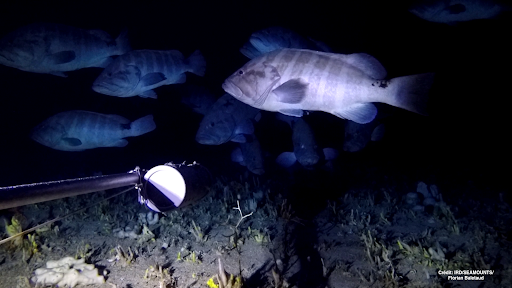 Baited video © ANR SEAMOUNT, IRD
DATA
Satellite
Sentinel-1

Sentinel-2

Sentinel-3

Aqua and Terra MODIS

SPOT World Heritage

Peiades

Pleéiades Néo

WorldView

Future CO3D

Copernicus CAMS

Satellite weather data from ECMWF (European Centre for Medium-Range Weather Forecasts)
Other: historical government databases
BD CARTO : Data source of the cartographic reference frame of French Polynesia including vector themes (buildings, roads, contour relief, points of interest, toponymy, vegetation) and raster (multi-scale topographic maps, photographic clichés, DTM, ortho-rectified geo-referenced mosaics)
External data: Lidar, xyz bathymetry, sampling data
Thematic business data: land registry, maritime concessions, regulated fishing zoning, classification zone, navigation channels, anchorage zones.
RESULTS - FINAL PRODUCTS
Digital platforms for knowledge convergence on the experimental sites (activation in July 2021):
French Polynesia

New Caledonia
Regular follow-up of information on TAHATAI: https://linkedin.com/company/bluecham
Project News
Contact