VIET-ARRO
VIET-ARRO is developing a demonstrator of a recovery observatory in response to periods of intense cyclonic activity impacting food security in Vietnam. The project will supply managers with information.
An observatory for resilient recovery in agriculture
OVERVIEW
Vietnam is one of the countries most exposed to extreme climate-change related events (Adger, 1999; Yusuf and Francisco, 2009). Although the country has always suffered from heavy rainfall and flooding caused by rivers in spate, the frequency of extreme climate events, such as typhoons, has been seen to increase in recent years, leading to loss of human life and substantial damage. These catastrophic events activate emergency response mechanisms, with Earth observation data being sent to civil protection agencies for use in producing emergency response maps. However, this stops after a few days.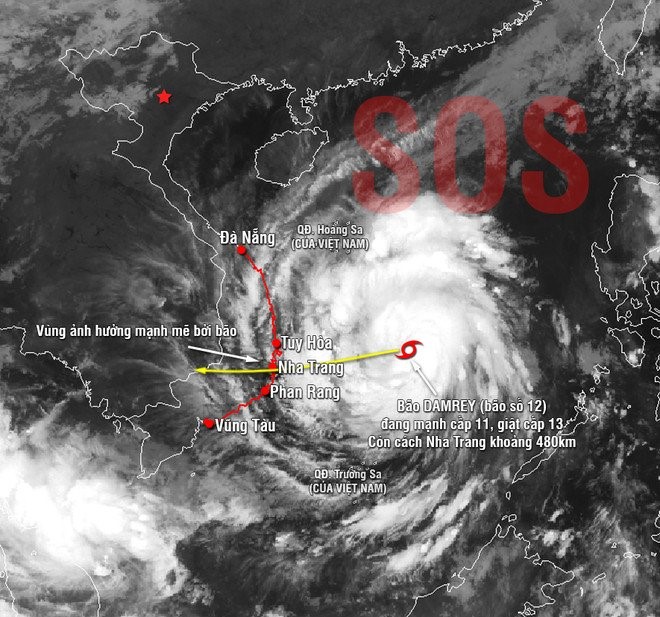 Satellite image of Typhoon Damrey, November 2017. © Facebook Thời tiết Hà Nội
Following a crisis, it is essential to get the economy up and running again quickly and efficiently. In 2017, a report from Vietnam's Central Committee for the Prevention and Control of National Disasters raised a number of questions on control, rebuilding and prevention following natural catastrophes. In particular, it underlined the lack of emphasis placed by the rebuilding process on cutting greenhouse gas emissions or increasing resilience to reduce the impact of similar catastrophes.
The aim of the Viet-ARRO project is to set up an Agriculture Resilient Recovery Observatory in Vietnam, relying primarily on satellite observation data. In the event of a major disaster with a severe impact on agricultural output, the observatory could be activated by local or national government or by international development aid organisations.
By using Earth observation data acquired throughout the return to normal and covering the whole of the affected area, it will be possible to monitor the effective progress of regional rebuilding. In this way, the observatory will help to make the rebuilding process as resilient as possible to similar catastrophes in the future. This type of observatory would support regional planning policies, aimed at adapting the rebuilding process to the projected impact of climate change.
The project will involve supplying local and national managers with regularly updated geospatial data based on Earth observation in order to:
Improve impact assessment and the monitoring of damage suffered by socio-agronomic systems following a typhoon, super typhoon or other extreme hydrometeorological event;
Provide decision-makers with a range of geospatial data to support post-typhoon recovery;
As part of the recovery effort, support the transition to low-emission systems that would be more resistant to future climate disasters, with details of the key questions and parameters to be monitored in order to plan a resilient recovery.
The ARRO will provide free and open access to data and information that will be useful for impact assessment as well as for recovery planning and monitoring. It will also act as a platform for discussion and cooperation on recovery-related issues, thereby contributing to greater resilience at community level.
TERRITORY FOR EXPERIMENTATION
Regions of Central Vietnam (

Hà Tĩnh

)

Regions affected by typhoons during the project
DATA
Satellite
Copernicus Sentinel-1A and1B. Time series every six days, with a resolution of 10m
Other
Climate data from weather stations in Vietnam and regional simulations (SEACLID/CORDEX-SEA project)

Products supplied by the International Charter on "Space and Major Disasters" and by the Copernicus Emergency Management Service in the event of activation in Vietnam
RESULTS - FINAL PRODUCTS
An online portal showing the data processed and generated as part of the project:
Reference maps (pre-typhoon baseline, baseline t0), based on satellite imagery

maps showing the scale of damage and changes to land use, based on satellite imagery and regularly updated to monitor the return to normal

statistical information showing changes to agriculture in the impacted areas, based on the specifications of local and national managers.
RELATED SCO PROJECTS
PROJECT NEWS
29/03/2023: Presentation of the Viet-ARRO project and its progress at the 8th Quarterly Meeting of the SCO France dedicated to SCOlutions to hydrometeorological risks, including an introduction on the use of satellite data in the different phases of risk management
Contact