EducSCO: 2nd training session
Published on 16/05/2022
For the second EducSCO training session, CNES Toulouse opened its doors on Tuesday 12 April 2022 to 22 secondary school teachers. The aim was to give them the means to talk to our children about climate change, from its origins to solutions for combating and adapting to it.
One year after the first edition, the EducSCO team renewed its training course for secondary school teachers, focusing on two crucial questions: how to explain climate change to young people and what contribution space can make to understanding and adapting? As in 2021, the participants felt the same concerns after the presentation of the state of play on climate change: the whole point of these training sessions is to go beyond this distressing observation by focusing on the capacities for action, including the SCO and its projects based on spatial data. And the 2022 session offers a major difference in this respect: the 22 participants met face-to-face at the Toulouse Space Centre and no longer virtually.
Although the training modules remain the same, the exchanges and practice benefit greatly from this renewed proximity. As Vincent Lonjou, an engineer at the CNES Earth Observation Laboratory, points out, "We were able to accompany their live experimentation with the EducSCO Temperatures and EO Browser tools. Having thus been able to 'handle' use cases themselves, the teachers left with practical experience and the ability to re-use the tools with their classes. A virtual sharing space is now available to them, where those who wish to do so can propose their educational project to be refined with the EducSCO team.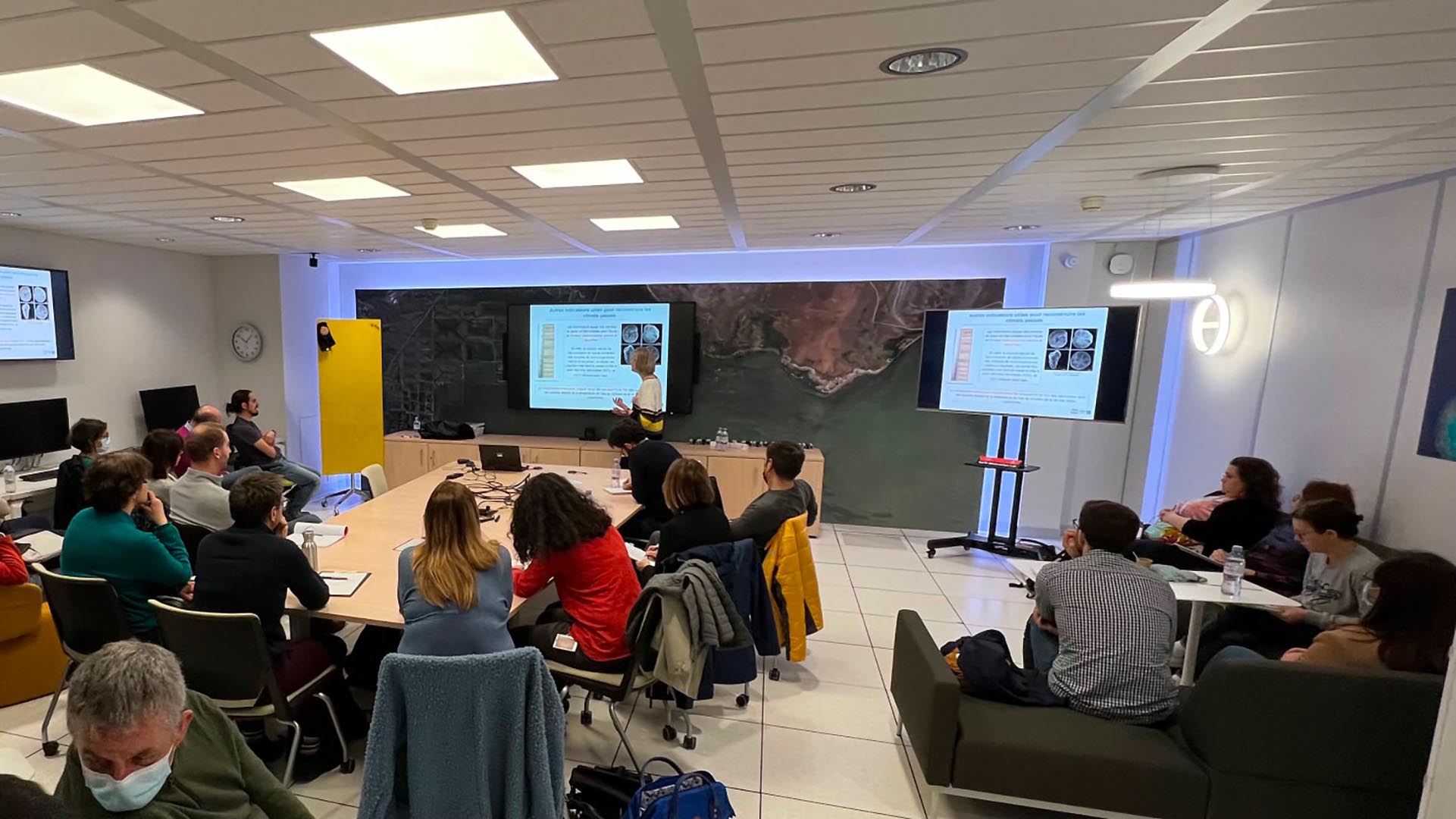 The annual EducSCO training course combines presentations by Météo-France, to understand climate change, and CNES, to discover adaptation solutions using space. © SCO
For primary schools and universities
In order to cover all school levels, the EducSCO team is involved in peripheral actions. Interventions on the theme of climate took place in training courses for teachers of 1st degree on behalf of the Houses for science (Maisons pour la Science) Aquitaine and Bretagne. In addition, the Lab'OT will be taking part in the CNES summer universities this year.
Find all the useful links of the project (training, videos, online tools and resources) in the left column of this page.