ORION
The ORION project aims to deliver indicators derived from satellite imagery to biodiversity managers and stakeholders for an emblematic mountain region: the Chamonix valley. Data from Sentinel-2 imagery, botanical surveys and camera traps will be combined to assess the consequences of shrub expansion on mountain plant diversity and habitat use by large herbivores.
biOdiveRsity Impacts of shrub expaNsion 
OVERVIEW
While the upper limit of the forest has been studied and monitored for many years, the distribution of low woody species (or heaths) in the Alps is often poorly taken into account in the mapping and management of mountain environments. However, heaths represent today a structuring and sometimes dominant habitat of mountain vegetation cover. Their expansion at the expense of grasslands leads to a certain number of "ecosystem disservices", i.e. functions that are perceived as negative for ecological functioning and human well-being. The replacement of mountain meadows by heathland i) leads to a local decrease in floristic diversity, ii) modifies plant resources available for herbivores (wild and domestic) and iii) alters the mountain landscape from the point of view of tourists and hikers. In recent years in the Alps, a strong expansion of heathland has been observed, which has been favored both by climate warming leading to a reduction in the duration of snow cover, but also by the abandonment of pastoralism in favor of tourism.
The Mont-Blanc massif is an emblematic site of the effects of climate change in the Alps. In the same way as the melting of glaciers and permafrost in the high mountains, the erosion of biodiversity is a critical consequence of global warming to be monitored from the point of view of land management and conservation.
The commissioning of the Sentinel-2 satellite offers scientists and decision makers the possibility of improving spatio-temporal monitoring of mountain environments, thanks to improved spectral, spatial and temporal resolution. Botanical surveys carried out in the field will allow for quantifying the consequences of the expansion of the moors on plant diversity, in particular that of meadows. Otherwise difficult to observe, "camera traps" will make it possible to observe wildlife and its use of mountain habitats with varying degrees of shrub cover.
The ORION (biOdiveRsity Impacts of shrub expaNsion) project consists of providing operational services to decision-makers to help them manage the expansion of heathlands on their territory. We propose a multi-trophic approach that aims to understand the consequences of grassland closure on floristic diversity and habitat use by large wild herbivores (mainly deer, roe deer and chamois).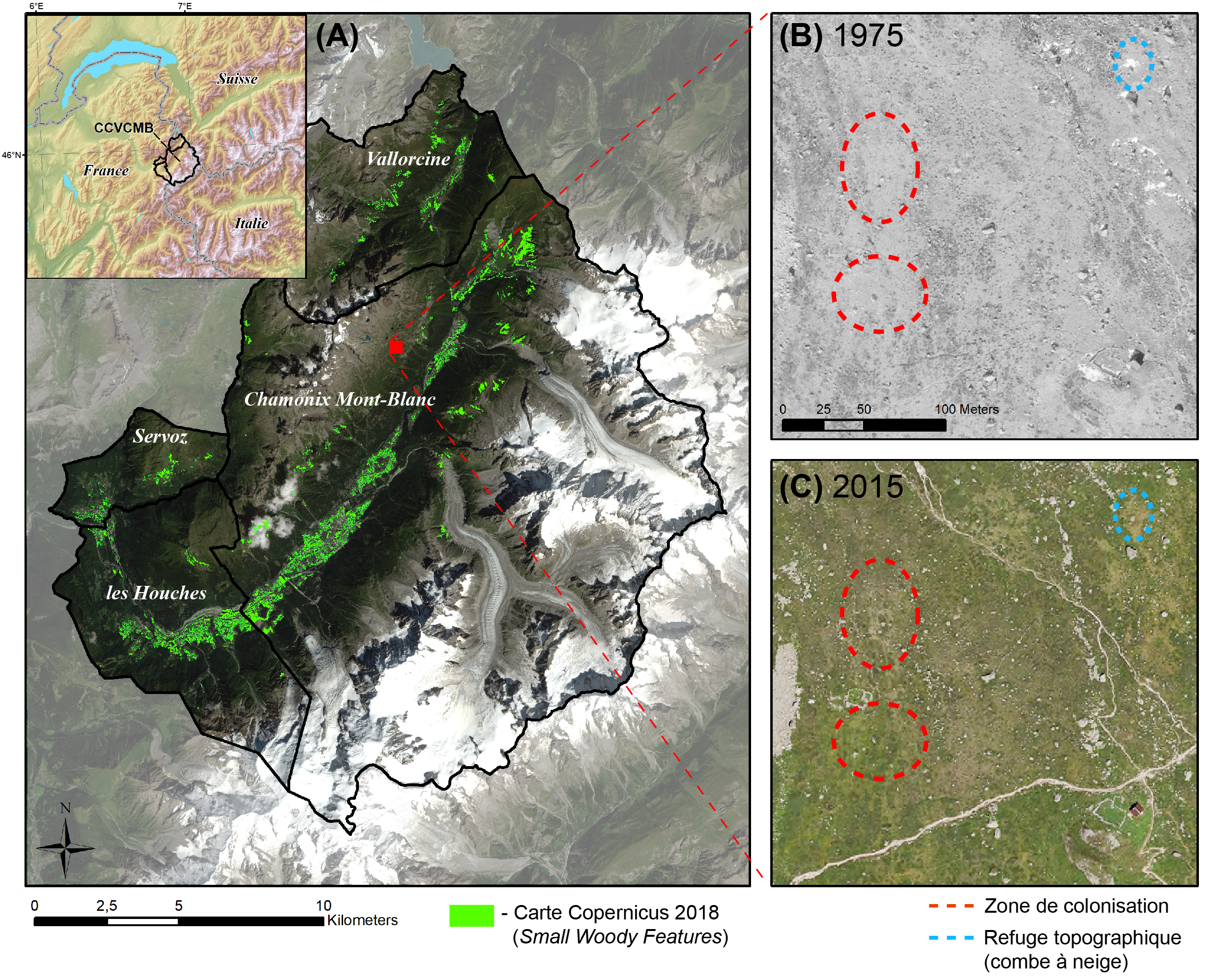 © CREA Mont-Blanc 
TERRITORY FOR EXPERIMENTATION
The Community of Communes of the Chamonix-Mont-Blanc Valley, France 
DATA 
Satellite
Sentinel-2A et -2B
Other
Botanical (phyto-sociological) field surveys

Images taken by photo trap

High resolution DTM
RESULTS - FINAL PRODUCTS
High resolution (10m) and replicable mapping of habitat distribution (forest, heath, grassland, rock and bare soil) from Sentinel-2 satellite images and validated by ground observations
Indicator of floristic diversity as a function of heathland cover from botanical surveys
Habitat-based indicator of large herbivore use from camera traps
Mapping of the areas at stake on the territory of the CCVCMB (Community of Communes of the Valley of Chamonix-Mont-Blanc), including identification of the vulnerable meadows likely to be colonized b heath
Availability of indicators and associated data to managers, in the form of GIS data and a data visualization portal on the Mont-Blanc Atlas website
Project News
Contact