CIMOPOLEE
The consequences of climate change can already be measured in terms of tropical cyclones, whose power and area of influence increase with ocean temperature. The Cimopolée project aims to better quantify and monitor the impacts of these events in the south-west Indian Ocean through operational processing based on data from the Sentinel-1 and 2 satellites.
Mapping the impact of natural disasters on the adaptation and resilience of Malagasy territories 
Overview
Providing rapid qualitative and quantitative information on the impact of cyclones and monitoring the resilience of affected areas over time are two central issues for emergency management services, decision-makers in charge of land-use planning and for researchers studying these phenomena. Earth Observation satellite data, available today on a large scale and in near-real time, are valuable allies in meeting these needs.
Various studies show that climate change in the Indian Ocean is causing an increase in extreme weather events (cyclones, fires, floods). Scientists have established a particular link with global warming in this region of the world because the Indian Ocean is warming up faster than the Atlantic or the Pacific. In this context, the island of Madagascar is particularly vulnerable to these changes because of its geographical position, which extends over 15 degrees in latitude. A better assessment of the extent of the affected areas, a better characterisation of the damage and the resilience of the territory over time are therefore major challenges for this island, which is regularly in the path of cyclonic events. Thanks to their high temporal repeatability and wide spatial coverage, high and very high spatial resolution satellite images can help achieve these objectives.
Satellite potential
In order to move forward on these issues, the UMR Espace-Dev has been developing tools and automated processing chains around Sentinel-1 and 2 data for the past 5 years. These tools were initiated between 2018 and 2021, through the Interreg project ReNovRisk-Impact. Dedicated to the economic evaluation of the impact of cyclones on Madagascar and Reunion Island, this project has shown, through several case studies, the potential of such tools and Sentinel satellite images to carry out an inventory and monitoring of the impact of natural hazards (particularly floods) with regular information on a fine spatial scale.
The Cimopolée project builds on these already functional developments to set up an operational online tool that will integrate data on the scale of major natural disasters from Sentinel-1 and 2 satellite images. This project is intended to be a pioneer in setting up a permanent tool for risk managers in Madagascar and scientists who monitor the impact of these events. The aim is to offer a user-friendly tool that is open to a large community of users.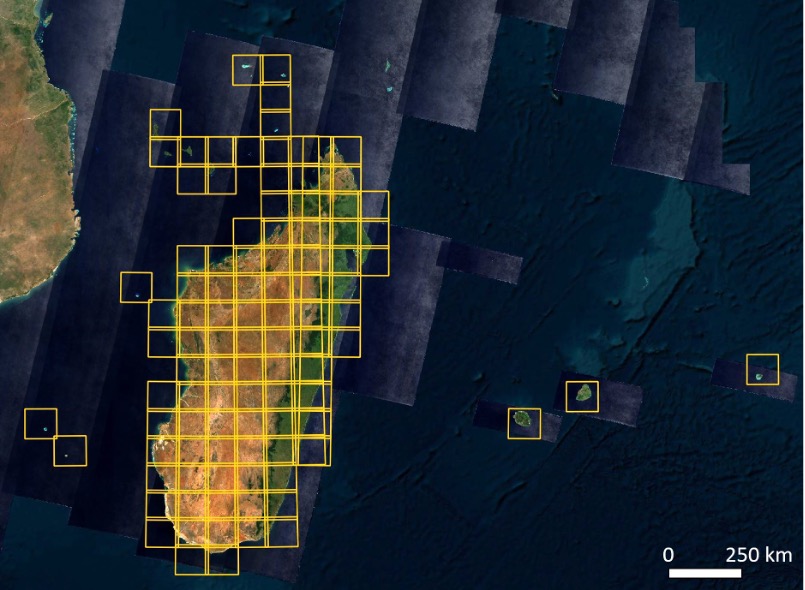 Tile coverage (decomposition of images into square tiles) of Sentinel-2 covering the Cimopole application area © Digital Earth Africa, Sentinel-2 ESA
Project consortium
The project is led and coordinated by the UMR Espace-Dev from the SEAS-OI station in Réunion. It involves members of the University of La Réunion and IRD based in La Réunion, Montpellier, Madagascar and Cambodia.
The stakeholders of the project in Madagascar are the Antananarivo Geophysical Institute and Observatory (IOGA) and the Institute of Science and Technology (IST) for the scientific part, and the National Office for Risk and Disaster Management (BNGRC) for the operational part. Cimopolée is resolutely participatory and the partners will be heavily involved in the design and downstream use of the tool.
Territories for experimentation
Madagascar

Reunion 

Island
Data
Satellite
Copernicus Sentinel-1 

Copernicus Sentinel-2
Other
Results – Final products
Cimopolée application for mapping and monitoring the impact of cyclones

, in the form of an interactive web mapping service (summary maps, dashboards);

User's guide

for risk management actors in Madagascar.
Related projects
References
Denis, G., de Boissezon, H., Hosford, S., Pasco, X., Montfort, B., & Ranera, F. (2016). The evolution of Earth Observation satellites in Europe and its impact on the performance of emergency response services. Acta Astronautica, 127, 619-633.

Alexandre, C., Johary, R., Catry, T., Mouquet, P., Révillion, C., Rakotondraompiana, S., & Pennober, G. (2020). A sentinel-1 based processing chain for detection of cyclonic flood impacts. Remote Sensing, 12(2), 252.

Mouquet, P., Alexandre, C., Rasolomamonjy, J., Johary, R., Catry, T., Révillion, C., ... & Pennober, G. (2020). Sentinel-1 and Sentinel-2 Time Series Processing Chains for Cyclone Impact Monitoring in South West Indian Ocean. International Archives of the Photogrammetry, Remote Sensing and Spatial Information Sciences, 43, 1593-1599.
Contact