FLAude
FLAude aims at better understand extreme hydrometeo phenomena and elaborate indicators for prevention & risk reduction, adapted to local decision makers use on Aude & Occitanie. Twofold EO-derived info (extreme floods impacts on territories and C3S data analysis & projections) combined with other data, will feed iterative public policy dialogue on CC impact and EO enriched planning tools.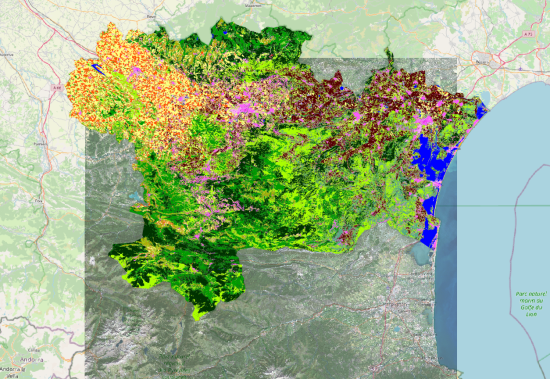 Increased resilience to flooding
OVERVIEW
Following the disastrous floods that occurred in October 2018, Aude French department has become a pilot territory for the use of satellite images following hydro meteorological disaster, contributing to the development of territories more resilient to extreme events. Since end 2018, a collaborative work, anchored in reality, has been carried out between the departmental directorate for territories and sea (DDTM Aude) and CNES, through in-depth analysis of extreme hydro-meteorological events, aiming at developing a future Flood Observatory for Resilient Occitanie.
The Copernicus Climate Change Service (C3S) decided to illustrate the strength and potential of both SCO and Copernicus through a dedicated Demonstration Case under the umbrella of SCO, built on experience gained on Aude department.  Using C3S, but also Copernicus Emergency Management Service (CEMS) data and products, together with other various data, the aim is to derive decision and policy planning tools to assess and evaluate the impacts of climate change on a concrete use case in Europe.
The Flood Observatory for Resilient Aude and Occitanie (FORO) will be created to capitalize on the results of this project and promote iterations between the different actors.
FLAude builds on previous work on Aude to extend its territory, duration and scope, addressing impacts and necessary adaptations on the Occitanie region, as well as medium and long term projections. The associated results and good practices will be profitable to the flood observatory, to other departments and regions networks in France (DDTM, DREAL, DEAL, EPCI), as well as to actors of the Ministry of Environment Satellite Applications Plan. The European and global replicability of the service will be addressed by using open datasets and tools offered by Copernicus DIAS and especially new C3S climate datasets. 

FLAude will enable the creation of the basic treatment bricks, as well as the preliminary results, which will subsequently feed FORO. It will contribute to the understanding of extreme hydro-meteo phenomena and to the elaboration of methods for prevention and risk reduction, adapted to the use by local decision makers. The medium term objective will be achieved in the framework of the FORO platform, while the longer term objective is to be able to respond, in metropolitan France, overseas French territories and abroad, to the needs of regional and local administration affected by extreme hydroclimatic events.

The exemplary nature of the FLAude demonstrator is guaranteed through the implementation team, ensuring links
with local, department and regional users, led by DDTM Aude,
with Météo-France key partner for climate expertise in France and experience in C3S data use for global replicability of the service, and
with public policy experts and academics (SGEvT/University Toulouse2 Jean Jaurès) in order to guarantee the suitability and acceptability of these tools by authorities and decision makers. 
Long term evolution of flood risk and projections in the future will be provided through new European or Global C3S products for past events analysis and climate projections evaluated with Météo-France climate references, helping decision makers to better assess decisions to be considered in the future.
TERRITORIES FOR EXPERIMENTATION
A

ude department, France

P

yrénées Orientales department, France

Occitanie region, France
Related SCO Projects
DATA
Satellite:
French satellite Pléiades (70 cm resolution)

European satellites Copernicus/Sentinel-2 (10 m resolution) and Copernicus/Sentinel-1 (10 m resolution)

Historical Spot and Pleiades archive (Spot World Heritage)

Other free and open satellite images data sets: Landsat
Other:
C3S data and models: ERA-5 Land and/or UERRA

EuroCordex projections

Meteo France data and models on DRIAS portal

Space data portals: PEPS, IR DataTerra (THEIA, AERIS, ...), etc.

Copernicus Services: C3S, EMS (RMS, RRM, EFAS), CAMS, Land

Large number of territorial data set: land use maps, population maps and densities, agricultural fields national registry (RPG), etc.
RESULTS - FINAL PRODUCTS
Delivered to the Aude region at the beginning of September 2021, the FORO portal will be open to the general public in the coming months.
Damage assessment maps derived from Earth Observation (EO) High and Very High Resolution images after major extreme events on Aude department during the project duration.
Assessment of Log jams:
With an artificial intelligence algorithm based on the differences between two high resolution images (before and after the flood) and trained on examples of log jams manually annotated, predictions of log jams were made for two major flood events (15-16/10/2018 and 22-23/01/2020).
Examples for the 2018 flood event:
The covered area corresponds to the Pléiades images (PHR) acquired just one month after the flood, which represents approximately half of Aude French department.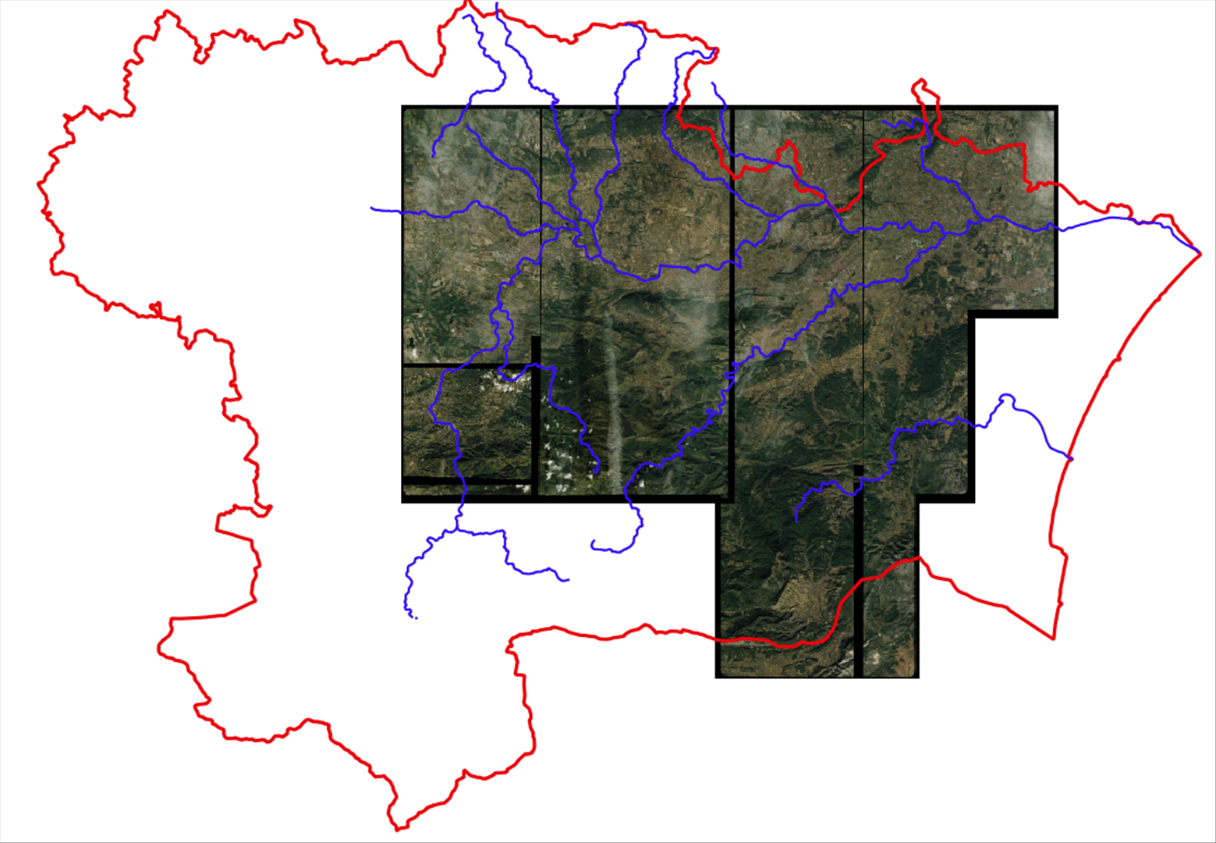 © CNES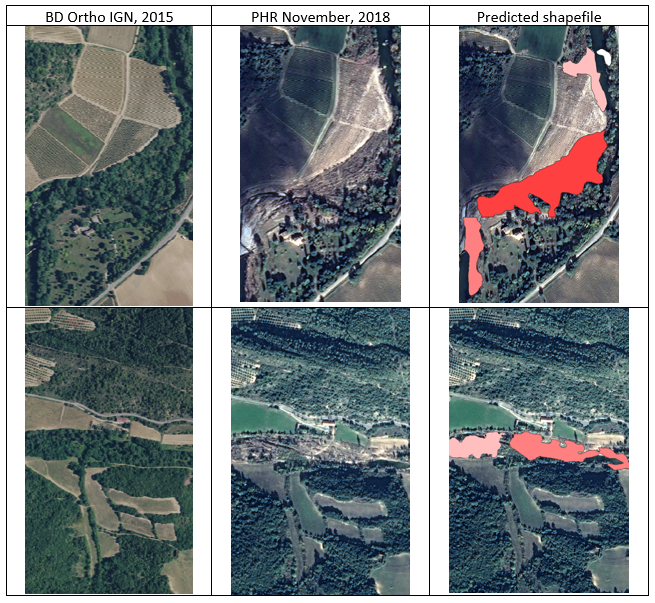 © CNES
Climatic analyses & Projections of hydro-climatic flood events in Occitanie using C3S Climate Data Store (CDS) and Météo France data
This workstream focused on the climatic characterisation of extreme rainfall events causing flooding in past and future climates using different data sets from C3S or local references (Météo-France).
An initial study conducted in the fall of 2020 identified criteria for the identification of extreme rainfall events and produced an inventory of major episodes over two time periods (since 1997 and since 1960) and two geographic areas (Aude department and Languedoc-Roussillon region). The ability of C3S reanalysis products (UERRA and ERA5Land) to capture rainfall totals and intensities has been documented and other parameters such as soil moisture and river flows have been studied. In early 2021, this analysis was extended to future climate characterization products, in particular the Eurocordex regionalized projections available on C3S, which Météo-France used to produce the DRIAS-2020 national reference frame for climate change in France. It was shown that in the case of extreme precipitation, the raw Eurocordex set could be used, especially at regional scales, although post-processing such as outlier filtering and data debiasing were recommended. For more information, see report D3.1 (Resources section below)
Another study carried out in 2021 focused on the analysis of climatic trends in extreme rainfall events in terms of accumulations, surfaces and volumes for the Aude and Languedoc Roussillon regions. More general results obtained for all French Mediterranean regions have been verified, with greater uncertainties, particularly related to the finer spatial scales of this approach. In the future climate, the Eurocordex simulations of the DRIAS-2020 ensemble confirm that the intensity of extreme precipitation will continue to increase in the future climate, whatever the climate scenario considered (RCP2.6, RCP4.5 or RCP 8.5). However, the rate of increase in precipitation bears little relationship to the increase in temperature and it is the uncertainty in the climate models that dominates. For more information, see report D3.2 (Resources section below)
Finally, a selection of indicators describing the risk of extreme precipitation in the past and future was prepared for the FORO portal to be used in an educational process to promote the use of spatial imagery for territorial adaptation. For more information, see report D3.3 (Resources section below)
PROJECT NEWS
22/11/2022: Flood resilience: FORO is open access
14/02/2022: On the occasion of the Occitanie 2022 Employers' Forum, the DDTM of Aude illustrated the skills in geomatics and earth observation through the FLAude project and its FORO tool. This forum was organised by the Ministries of Ecological Transition, Territorial Cohesion and the Sea to showcase the professional opportunities within the services and operators of this ministerial cluster in Occitania.
31/01/022: European data at the heart of SCO projects, including how the FLAude project uses Copernicus data
23/02/2021: Focus on FLAude
RESOURCES
Contact