EO4DroughtMonitoring New Caledonia
EO4DroughtMonitoring is a farm management and institutional decision support tool. The system is capable of assessing the intensity of drought events, estimating their severity by analogy to a historical reference state and, coupled with current data, providing an indication of the plausible future trajectory of a hydrological season.
OVERVIEW
Between August and December, New Caledonia is plagued by a yearly period without substantial rainfall. As a result, rivers, soil and vegetation dry up, leading to consequences on agriculture, water resources and the fight against wild fire. As a result of global change and over the past fifty years, we have observed in New-Caledonia a substantial rise in temperatures also resulting in increasing stress on water resources leading to conflicts. These elements both directly and indirectly impact New Caledonia's rich biodiversity as well as the different ecosystems and natural environments that make it up.
Currently, Météo-France NC uses data from rain gauges (Standardized Precipitation Index SPI) to track meteorological drought events. This index quantifies precisely the recurrence of rainfall over the last 60 years. Nevertheless, rain gauges do not cover all municipalities as spatial heterogeneity in drought events, particularly in early and late mitigation phases, complicating the labelling of such phenomena as agricultural disasters by decision makers. In this regard, the use of a spatialized vegetation index could fill this gap. An index qualifying the state of the vegetation seems a priori more adapted to characterize agricultural drought than the current tool which only takes into account the rainfall deficit whereas temperature, humidity, wind and global solar radiation also contribute to the water stress of plants.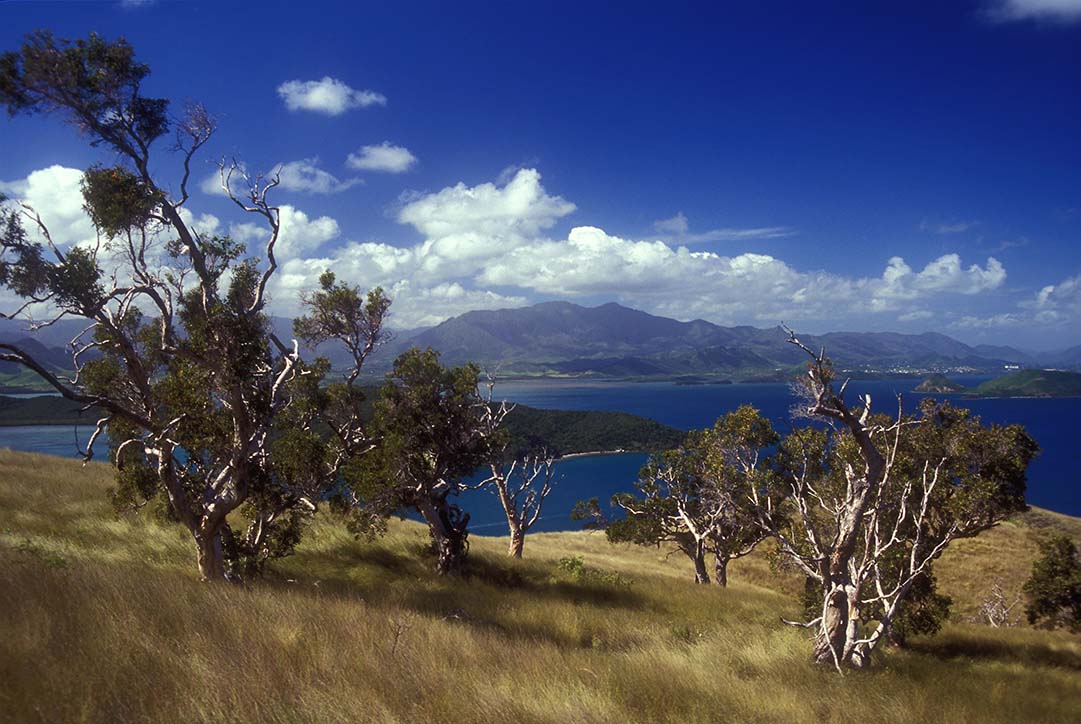 Gadgi Bay Landscape © Sebastien Merion
Led by INSIGHT and in close collaboration with Météo-France NC, the EO4DroughtMonitoring projects allows the development of a drought monitoring tool based on proven and objective indicators derived from Earth Observation (EO) data. Thanks to the processing of complementary satellite products (optical, thermal, microwave), the tool estimates vegetation, temperature and soil moisture anomalies which are then combined with meteorological products (precipitation, reference evapotranspiration).
EO4DroughtMonitoring predicts whether drought conditions will occur, worsen or cease during the month in question(30-day rolling, updated 1-2 times per week). Agro-climatic indices, such as the SPI, the normalized precipitation and the evapotranspiration index (SPEI), are calculated from an integrated forecast data produced by Météo-France and the European Centre for Forecasting (ECMWF). These indices are combined with current indicators on agricultural drought status to predict future changes in the drought event. Drought forecasts are then classified as follows: "Stopping", "Forming", "Reducing", "Persisting", "Worsening".
Through a visualization and dissemination platform of information (HMI), these indicators provide an objective, updated, spatialized and temporal response to institutions for informed decision-making. With the aim of developing reasoned decision making based on steered adjustment reflecting local environmental conditions and reality.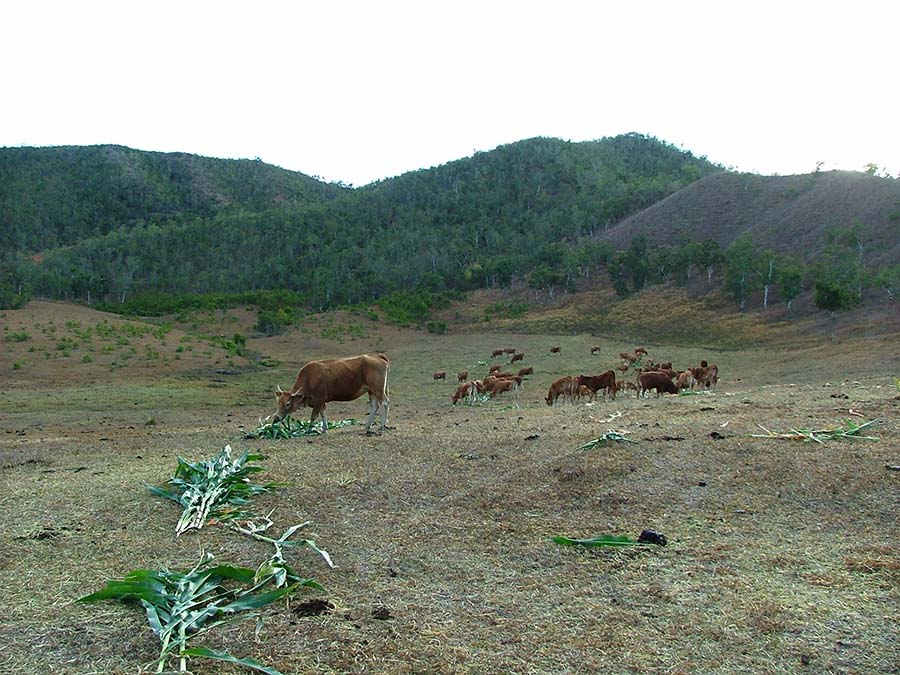 Sorghum distribution to cattle during drought  © Jérôme Ugolini
TERRITORIES FOR EXPERIMENTATION
New Caledonia
The South Pacific Region
Reunion Island
DATA
Satellite
Copernicus Sentinel-2 for optical

Landsat-7/8, MODIS, ECOSTRESS for thermal

Copernicus Sentinel-1, SMAP, ASCAT, SMOS for microwave
Others
Drought indicators and agro-meteorological data from the Météo-France New Caledonia observation network

Products from sub-seasonal and seasonal forecasts from Météo-France and ECMWF systems
RESULTS - FINAL PRODUCTS
The final product is a simplified, clear and updated web-based information dissemination platform to allow the non-expert use of the provided information from the tool.
The current drought maps as well as the evolution trends are disseminated by area of interest according to the users (e.g. agricultural areas for decision makers and plot for producers).
Project news
30/03/2022 : EO4DM to anticipate drought periods​​​​​​​, an update on the significant progress of the project
RELATED SCO PROJECTS
Contact